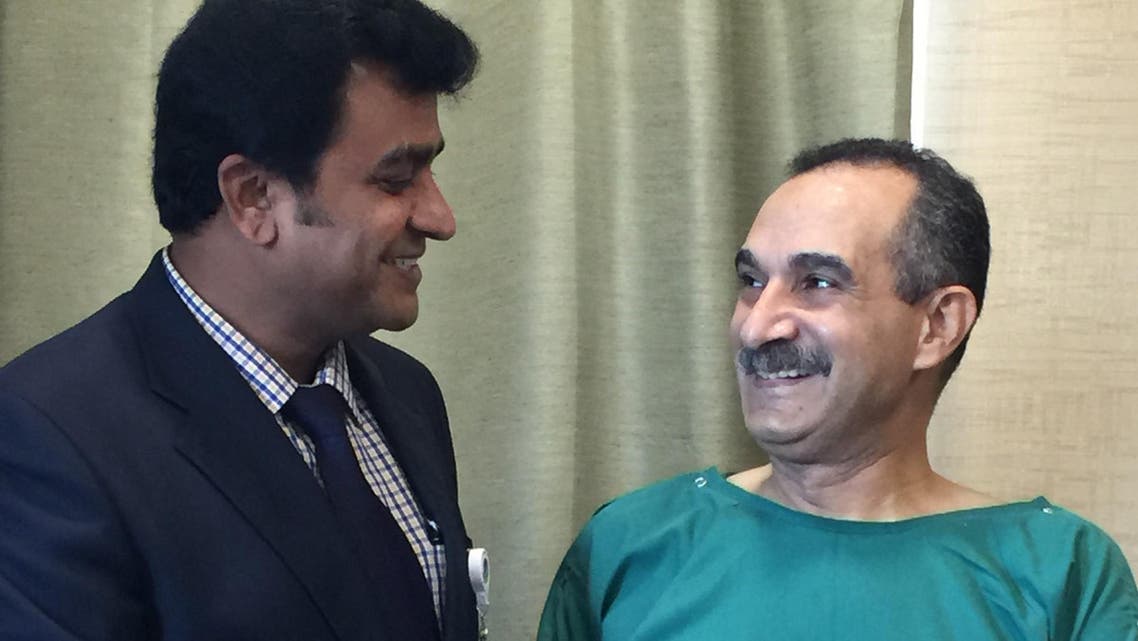 Handicapped for 20 years, Arab man starts walking after three-hour surgery
Grit and tenacity helped a long-suffering patient to recover from handicap
Imagine walking pain-free and without a walking aid after 20 years of pain and disability. This is what Abdel Gawwad Mohamed Elashri, a 52-year old Egyptian expat is currently feeling following a total knee replacement surgery for his injured left leg at Aster Hospital Mankhool, Dubai.

His case was complicated by cardiac palpitations, a history of prostate enlargement and urinary incontinence, and he was on blood thinning drugs for cardiac problems, according to Dr. Manjunatha G. S., Specialist Orthopedic Surgeon.

Abdel Gawwad came to the doctor after being persuaded by an Egyptian friend who had undergone a total hip replacement surgery performed by Dr. Manjunatha last November.

After thorough investigation, Abdel Gawwad was diagnosed with post-traumatic osteoarthritis - a condition caused due to ageing and injury. Further investigations also revealed that his left leg was 2.5cm shorter than his right leg. Due to his existing heart and bladder conditions, it was also a high-risk case for surgery.

"We explained the risks, as well as what he stood to gain, should the surgery be successful. I think after 20 years of pain and discomfort, which would only get worse with age, he was determined to give life another chance," said Dr. Manjunatha.
Expert medical team
With expert assistance from the team of doctors and nurses at Aster Hospital, Abdel Gawwad's underlying cardiac and urology conditions were kept under check, prior to and during the surgery. After a successful three-hour total knee replacement surgery and with specialized protocols in pain management and physiotherapy, Abdel Gawwad began walking within five hours post the surgery.

"We did our best during the surgery but it was Abdel Gawwad's tenacity and motivation that sped up his recovery. Patients usually need to be taught through physiotherapy to perform routine activities like standing, sitting, getting in and out of bed, using the bathroom etc. after a joint replacement surgery. But he was extremely motivated and quickly learnt and performed all the exercises without any assistance. I am very glad that our team was able to give him the right treatment and empower him to lead a normal life again." said Dr. Manjunatha.

Despite the high degree of bone correction which entirely changes the patient's balance and gait or causes a lot of pain, and the soft tissue released, Abdel Gawwad managed fine without the knee braces that patients generally resort to after joint replacement surgery. He walked out of the hospital on the sixth day after his surgery. Mild bone bruises were noted and treated in follow up check-ups. At three weeks post the surgery, the deformity was completely corrected.
Relieved of pain
Speaking to Al Arabiya English, Abdel Gawwad, who came to the UAE in 1997 and is a transmission engineer at Umm Al Quwain Radio, expressed his relief after suffering for the last 20 years.

He recalls the traumatic injury following a car accident in Cairo and subsequent operation 20 years ago. He did not have time to take rest and recover after the surgery. In normal people the knee and the muscle jointly take the load. But since his muscles had become weak after the first surgery, the knee had to take the load. "No one told me to take care."

He said that the last seven years have been absolute agony. After 15 minutes of walking he has to sit down to recover from the pain. He went to many other doctors but they advised him to continue to manage his pain through medicine.

"Dr. Manjunatha provided an accurate treatment for my condition, but above all, he gave me the confidence and motivation to walk again. I can now walk and perform tasks on my own without any hassle. It feels like I have gone 20 years back in time,'' said an elated Abdel Gawwad.

Dr Manjunatha, who has performed more than 2,000 major surgeries overall and has been trained and worked in Malaysia, Singapore, Tainan, Taipei, Africa and India, explained: "The fracture that was operated upon and fixed with steel plate and screws 20 years ago, also led to structural damage to the bones and a resulting shortening of the limb. Fractures of the long bones as in the leg, when it is shattered, there is a big opening during the operation and muscles are wasted. Doctors can approximate the available bones, and hence the length is compromised. The body alignment is lost and the biomechanics of movement is affected. Because of all this, osteoarthritis sets in early. He was using an elbow crutch and his condition worsened during the last so many years."
Quick recovery
"The quick recovery within five hours of the operation where Abdel Gawwad started walking was like vow! Usually, after such a surgery we need to persuade the patients out of the bed to mobilize them after one or two days."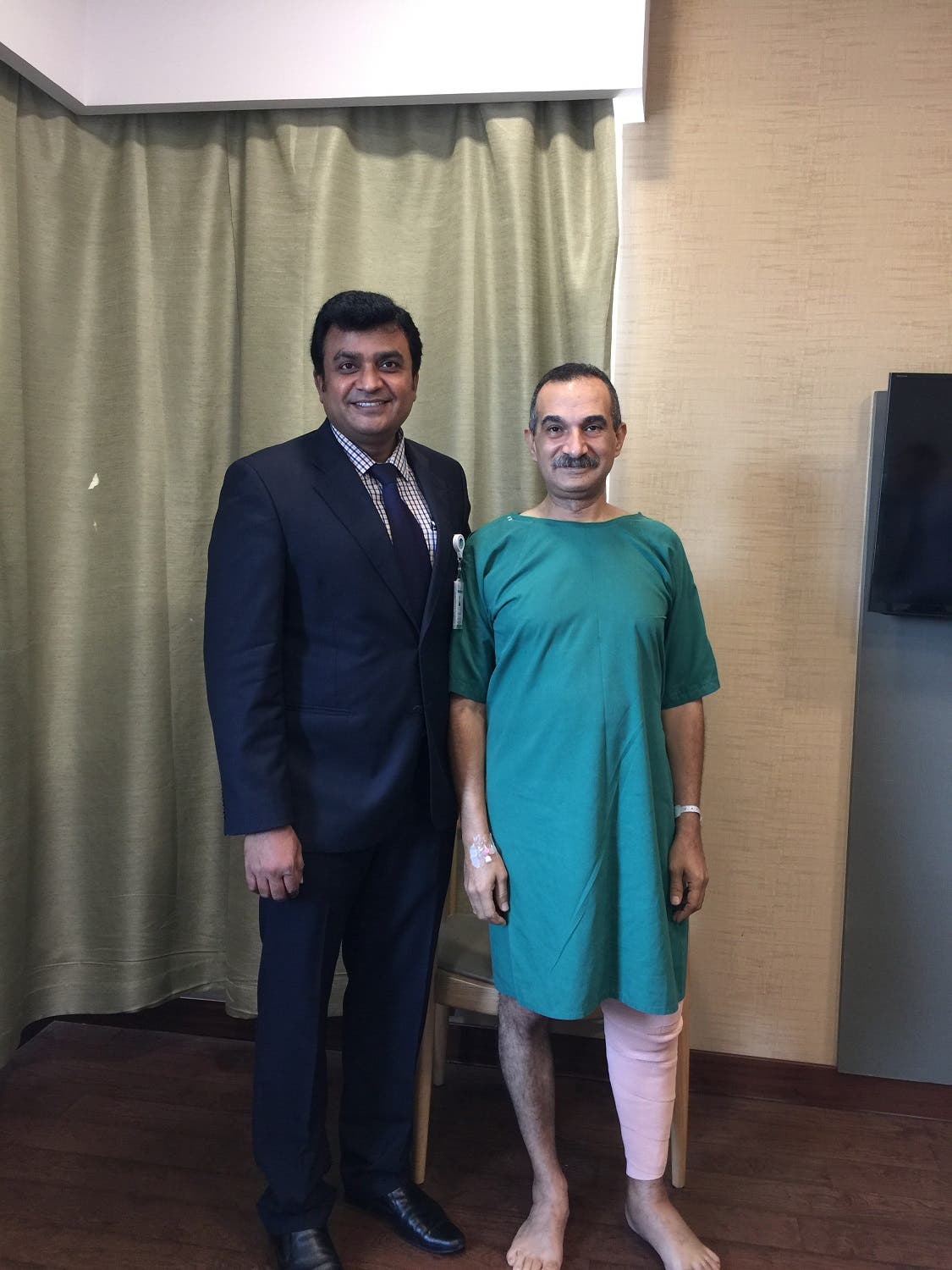 The doctor acknowledged that Abdel Gawwad fits the description of an "ideal patient." He was well prepared mentally for the operation as well as for the risks involved because of the immense pain he was suffering for many years."

It should be mentioned that one of the factors that made Abdel Gawwad to seek out Dr Manjunatha was the recommendation of a friend who had undergone total hip replacement surgery.

The doctor recalls the risks behind the surgery on Abdel Gawwad's friend, whose wife was a nurse. Other hospitals had advised them not to go in for surgey as it was too risky. He was a huge guy and had developed rheumatoid arthritis and psoriatic arthritis. Prolonged steroid use to treat the arthritis had destroyed his hip joints. After the hip replacement surgery, Abdel Gawwad's friend started walking the next day.

"My friend who had successfully undergone hip replacement surgey asked me to go to Dr Manjunatha. When I met the doctor, he studied the case, and he explained the complexities involved, and the benefits," Abdel Gawwad said.

"I took the decision to go ahead with the decision on my own as my wife and children are in Cairo. I did not want them to worry about me, and only informed them after the surgery and send them my photo. They are happy for me now!."
Support from colleagues
Even though he was alone here, the support of his work colleagues were a great morale booster for him, says Abdel Gawwad and passed on the phone to his Indian colleague Dilip.

"It was really surprising the way he has handled the stress of such an operation. It's a good feeling to offer him support and friendship. He is a very good human being, and it is a give and take relationship that we share," said Dilip.

Abdel Gawwad continued: "Before the operation, my activity was limited. Now I feel normal. It is only three weeks after the surgey. I have been advised to take care for around six weeks and also been told about the daily exercises, which I started on after a few days following the surgery. My bandage has also been taken off."

"I feel the difference now. Dr Manjunatha has restored my well-being and given me something to look forward in life."