Three Syrian American women shame Congresswoman who shook Assad's hand
Tulsi Gabbard came under fire recently after news revealed that she had traveled to meet with Assad
Three Syrian American women protested against Congresswoman Tulsi Gabbard from Hawaii, at a fundraising dinner in Los Angeles on Wednesday for her recent trip to meet with Syria's president Bashar Assad.
Hanadi Alwan and Loubana Abdin are both members of the Syrian American Council (SAC), a grassroots organization that carries out awareness-raising and advocacy in support for Syrians seeking to build a free and democratic Syria. The third person chose not to disclose her identity in order not to endanger her family in Syria.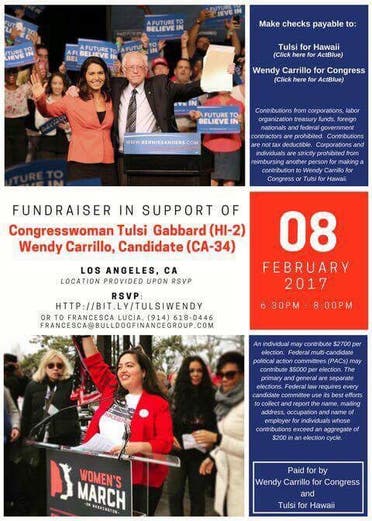 Gabbard came under fire recently after media revealed that she had traveled to meet with Assad, whose regime is responsible for committing mass violence against its own people, documented use of systematic torture against detainees, and responsible for the masses of refugees fleeing the country due to continuous bombardment.
News outlets revealed that the trip was originally paid by a group of Assad supporters, and that Gabbard was later pushed to pay back from her own pocket.
Alwan told Al Arabiya English that they arrived at the venue prior to the event, where they held up hand-written signs. One of these read: "Shame on Tulsi Gabbard, living in democracy and shaking the hand of a murderer dictator Assad."
She said the motive for their protest was to inform and educate people about what the Congresswoman had done and who and what she supports.
"As an American citizen who believes in democracy, freedom of speech, and elections, I want our representatives to act according to those values that we cherish dearly in this country and not to stand by a murderous regime that will kill thousands of his own people just to stay in power," Alwan said.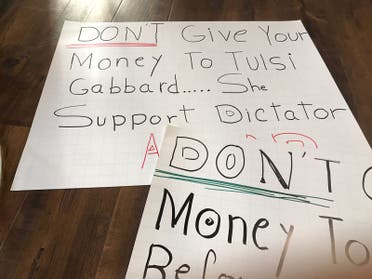 According to the SAC member, the women approached people coming to the fundraiser, asking them to question Gabbard on her secret visit to Syria.
They also said they handed out copies of the Washington Post article about her trip and explained what she had done without any 'consideration' to the Syrian people. Gabbard not only met with Assad, but is now campaigning for him to stay in power.
Alwan said the Congresswoman hurried inside trying to avoid them, after having read the signs they held up.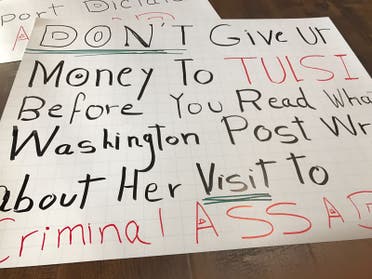 The three women said they were getting various reactions such as people reassuring that she was a good person but had committed a mistake she regrets, or others who were shocked by her support for Assad, while there were some who backed her decision on meeting with Assad, stating their news source is Russian TV.
"One activist stopped and asked many questions before entering the venue. She told us that she had worked with Gabbard during the Sanders campaign. The lady later said she asked the Congresswoman about Syria, but she gave excuses and tried to avoid it. When the lady left, she gave us a big hug and said: 'please don't stop what you're doing, we all need to speak for justice'. This lady turned out to be Jewish and was protesting Trump's immigrant ban into the US."
The women added that a man responsible for renowned Syrian artist Omar Souleyman's video record company Ribbon Music Records, said he agreed with them, saying it is a crime what is happening in Syria and that he is 'thankful' for someone speaking against it.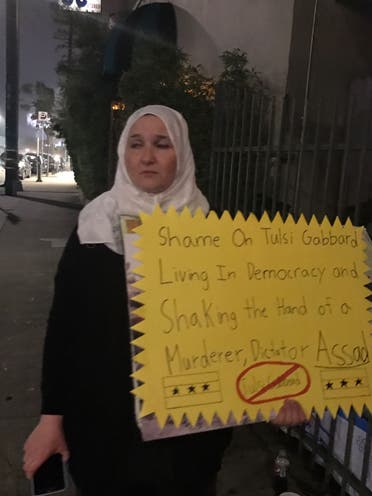 Alwan said the ultimate surprise was that the owner of the restaurant where the fundraiser was taking place told them she supported them and that they have the right to free speech, and sent them dessert.
She said that Rep. Gabbard left the fundraiser in a hurry trying to avoid the protestors. Alwan said: "Tulsi didn't have the courage to come out and talk to us because she knows we are hurting and she is wrong that what she did is shameful and against humanity."
Later on after the event was over, the protesters decided to have dinner at the same restaurant. The owner of the restaurant insisted on not letting them pay.
"While I was there, I was telling myself this is for all the women who have been unjustly detained inside Assad's prison, Horrible images from the receent Amnesty report were crossing my mind. Syrians will keep their fight till justice takes place, I assure you," said Alwan.