Cairo -- As Ethiopia's Grand Renaissance Dam nears completion, Egyptian fears that the dam will affect its historic Nile water share remain unchanged.

Expected to be ready by July 2017, Ethiopians consider the dam a great national project and a means of overcoming poverty.

Egypt's share of 55 billion square meters is the country's main supply of drinking water and irrigates the Nile Delta and generates nearly half of the country's electricity through the operation of the Aswan High Dam.

In 2015, Egypt, Ethiopia and Sudan signed a declaration of principles in Khartoum in which the three nations agreed to take all measures to avoid causing damage to the others, and to offer compensation in case of any damage.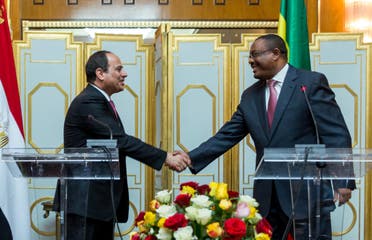 While the Ethiopian side has reportedly reassured Egypt that its water share will not be affected, Egyptians are concerned the dam would impact the agricultural output.

Last month, Egyptian President Abdel-Fattah al-Sisi and Ethiopian Prime Minister Hailemariam Desalegn met in Addis Ababa on the sidelines of the African Union summit.

The meeting raised speculations on whether thawing relations between the two countries could have any effect on the construction of the Renaissance Dam.

Prior to the visit, Nader Nourridine, a professor of water resources at Cairo Univeristy, commenting to a local newspaper on Sisi's visit, said it should help Egypt reach solution that preserve its water rights and reduces possible damages that could occur as a result of the Renaissance Dam.
Too late?
The Egyptian diplomacy handled the issue very late, political sociology professor Saeed Sadek told Al Arabiya English.

"Egypt now has no option but to wait for the dam to start operating to see how that would affect its water share."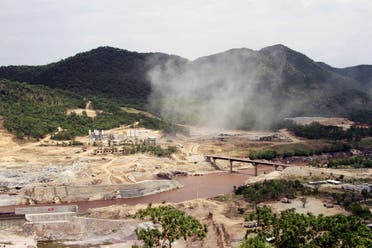 While there were several attempts to build the dam during the era of former President Hosni Mubarak, Ethiopia "took advantage of the political turmoil that followed his overthrow to construct the dam," Sadek explained.

A different approach was taken when Sisi came to power, he said, mentioning Egypt's intervention in retrieving 27 Ethiopians who were kidnapped in Libya.

But still, Sadek said, "we are yet to witness a major push in Egyptian-Ethiopian relations" that would provide water security for Egypt.