Indonesia's President tells Al Arabiya's GM: Saudi Arabia is a strategic partner
Coinciding with Saudi Arabia's King Salman bin Abdulaziz's visit to Indonesia as part of a month-long Asia tour, Al Arabiya's Turki Aldakhil sat down with Indonesian President Joko Widodo on spoke on several important files relating to his country and the Arab world.
Widodo told Aldakhil that improving strategic relations with Saudi Arabia will be on the forefront of several discussions when King Salman visits on Wednesday, among them a pact expected to be signed concerning the efforts to combat extremism and terrorism.
The king's visit to Indonesia comes as fringe Islamist groups grow in influence and Muslim leaders take an increasingly strict line on Islamic issues, which is at odds with Indonesia's traditional brand of moderate "Islam Nusantara".
The following is the full transcript of Aldakhil's interview with President Widodo.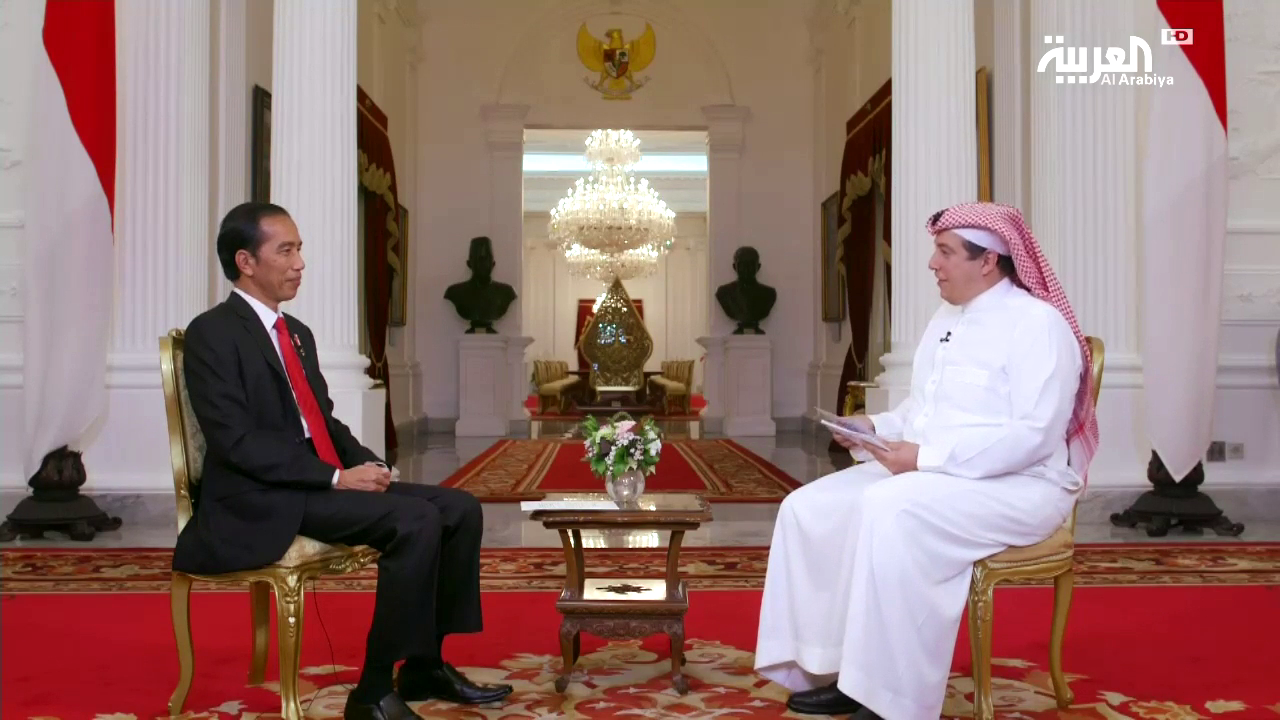 Turki Aldakhil: Islam was introduced in Indonesia by Arab and Muslim traders hundreds of years ago. How can you describe Indonesia's relationship with Arabs today? Do Arabs have any place in your Foreign policy? I ask this question, because some believe that during the 1980s, the Indonesian-Arab relations were stronger compared to today.
President Joko Widodo: Indonesia considers The Kingdom of Saudi Arabia as a strategic partner in raising the reputation of Islam as a religion of mercy in the world. As such, we would like to develop the relationship between Indonesia and Saudi Arabia even more, especially in the field of investment, culture and education, and this is something very important. Indonesia has the largest Muslim population in the world; consequently, we hope to develop and strengthen the relationships between the two, mainly in the field of investment, education and tourism.
Turki Aldakhil: Mr. President, the Custodian of the Two Holy Mosques King Salman bin Abdulaziz will embark on an official visit to Indonesia, which is a first. For 46 years, no Saudi leader visited Indonesia, how do you assess this visit?
President Joko Widodo: This is a historic visit, thankfully after 46 years, after the visit of the late King Faisal bin Abdulaziz, The Custodian of the Two Holy Mosques King Salman bin Abdulaziz will pay a visit to Indonesia, and we hope that his delegation, which includes ten ministers, will solidify the relationship between the two countries.
Turki Aldakhil: Mr. President, the media has compared you with French President Francois Hollande after ISIS attacked both Indonesia and France. While he stated that his country is at war, you assuaged your citizens', and launched the hashtag #WeAreNotAfraid. Are you really not afraid of ISIS?
President Joko Widodo: Indonesia is a great country, and during the terrorist explosion in Jakarta, I immediately went to the site. When I said that we are not afraid, I meant that the Indonesian society should not fear terrorism, because terrorism is about intimidation and spreading terror. If the people were afraid, and the state is afraid, this is a recipe for failure.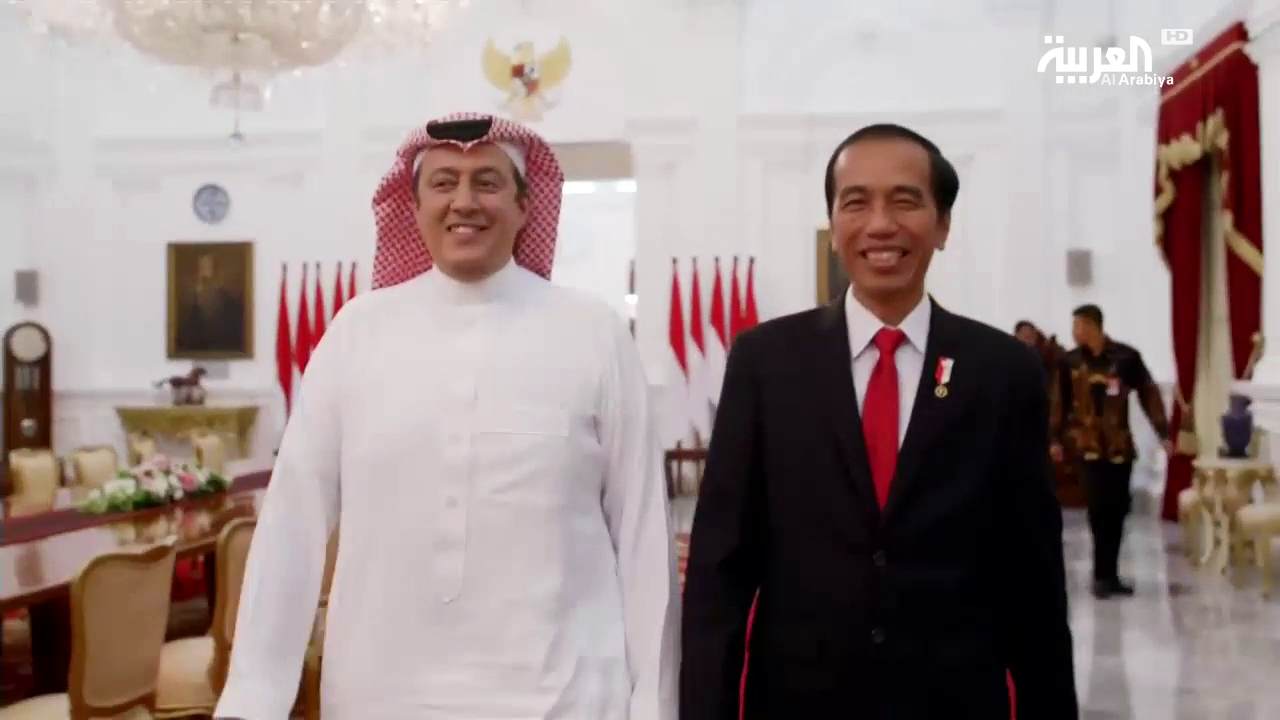 Turki Aldakhil: Mr. President, how do you deal with Indonesians involved in terrorism in conflict zones, what are the actions that you are taking, and have you decided to expel them from the country?
President Joko Widodo: They are Indonesian citizens, but justice must rule and we have two ways to confront them. A Legal method and a cultural, religious method. Indonesia is proud of the existence of two moderate Islamic organizations in the country, namely Nahdlatul Ulama and Muhammadiyah. The two are very cooperative with the government in the war against extremism and the fight against terrorism.
Turki Aldakhil: Mr. President, what is the secret of coexistence between more than six religions and a lot of ethnicities in Indonesia?
President Joko Widodo: Indonesia is inhabited by six religions, the home to more than 710 local tribes, and has more than 1,100 local languages. This diversity is practiced by the people who live together in harmony following the Pancasila or the five principles. This is the secret to living in peace and security and the unity among religions and different tribes in Indonesia.
Turki Aldakhil: Mr. President, did the tourism sector suffer as a result of terrorism? And how were you able to restore it since it is a major supplier to the country's revenues?
President Joko Widodo: It is true that terrorism affected our tourism in Indonesia but it did not last for long. The number of tourists in 2015 has reached ten million and 400,000 people and the number increased to 11 million 500,000 a year later. Advertising is very important, as well as the role of the media. Indonesia is peaceful and secure, promoting the beauty of the sites of Indonesia is very important. We hope to host more Arab tourists, especially from Saudi Arabia in the coming years.
Turki Aldakhil: Mr. President, what did democracy achieve in Indonesia after the fall of Suharto, besides the devolution and parliamentary and presidential elections?
President Joko Widodo: Now, Indonesia is a more democratic state, the Indonesian people is more aware and prudent in dealing with politics. 195 regional elections were held in the past year and 1,011 elections were held for the conservatives. Everything is going so well. The ordinary people elected Joko Widodo for office in a democratic election.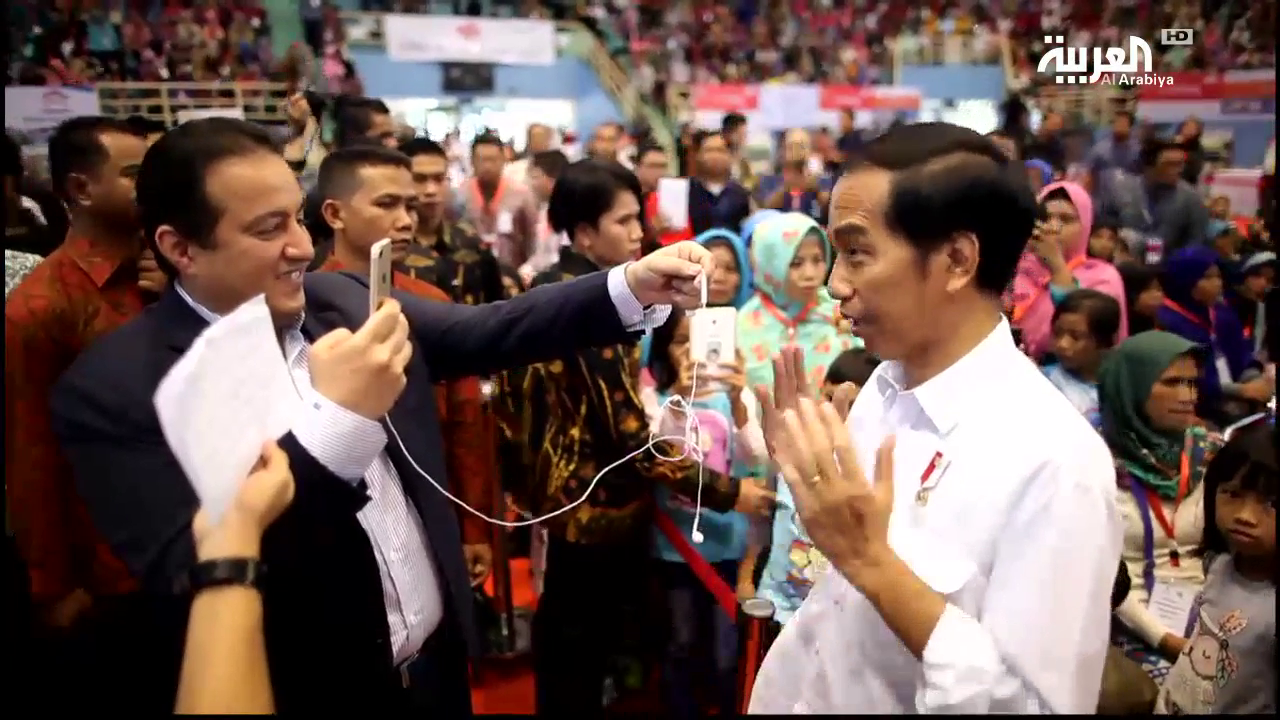 Turki Aldakhil: President Joko Widodo, you were a businessman, and then you decided to enter politics until you became president, when was the moment you decided to enter politics?
President Joko Widodo: After 18 years of conducting my own private business, I was elected governor of the city of Solo for two terms, then I ran for the governor of Jakarta and I succeeded. I was elected governor of the region of Jakarta, DC. Finally, I contested for the president's seat and I was elected. People trusted me with the country.
Turki Aldakhil: Mr. President, as a young kid, did you ever dream of becoming president one day?
President Joko Widodo: I didn't even dream pf becoming a governor, not to mention becoming president of the Republic, because I belong to the ordinary people, and I realized that from the start.