Islamic hip-hop duo Deen Squad empower hijabi women with new single 'Cover Girl'
The music art form of hip-hop is not usually associated with Islamic teachings, yet here is a group that is trying to bring the two worlds together.

In their first EP that was released on Sunday, Deen Squad feature influential hijabi women from all around the world for the music video of their single 'Cover Girl'.

The Canadian group, who has been making waves with "halal remixes" since they began two years ago, released their single in celebration of International Women's Day to empower Muslim women around the world.

"'Cover Girl' is about hijab empowerment, it's to uplift the spirit of our sisters all around the world internationally," Karter Zaher told Al Arabiya English.

The video features Ibtihaj Muhammad, the first American Olympian to compete in a hijab and win a bronze medal in the sabre-fencing event last year.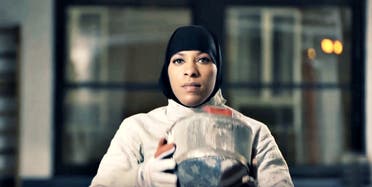 When starting the 'Cover Girl' project, Deen Squad explained that they had contacted hijabi women to take part in the video.
They were overwhelmed by the response, receiving high quality footage from over 30 "hijabi role models."

"It's miraculous how much support we received," Zaher said.


The single is part of the group's five-song album that they called "positive" and "uplifting," giving a "spiritual high."

Deen Squad explained that the album gives insight into what the group is really about. They stated that it is completely original, unlike their previous covers of popular songs that transformed singles such as Fetty Wap's 'Trap Queen' into 'Muslim Queen,' and OMI's 2015 summer anthem 'Cheerleader' into 'Believer' with Islam-inspired lyrics that talk about finding a devout Muslim wife.

"Everything we do, God is always in the equation… We ask God to bless everything that we do," Zaher said.
Jay Deen says that their music relates to various different communities that all kinds of people could enjoy. He explained that even in the 'Cover Girl' song they talk about their "sisters in the west."

"You will see in the video a girl holding the Canadian flag – showing that she is proud to be Canadian, because as Deen Squad we are born and raised proud Canadians, we couldn't have done the music without embracing our community values," he said, adding that they are grateful for having Justin Trudeau as prime minister who has supported Muslim communities in Canada.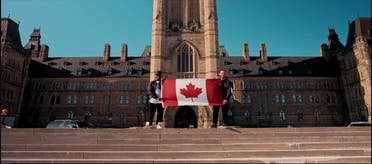 "Our main message primarily is for youth empowerment. That is our ultimate goal, because we understand that the youth are the future," Deen said, explaining that their music is universal.

"We believe our music is for everyone. We have fans from all different ethnicities, cultures. We even have non-Muslims coming to our concerts," he said, stating that Deen Squad aims to unite people of all cultures using music as a universal language.
'Halal bars'
Zaher – who is of Lebanese origins – and Deen – of Ghanaian roots who converted to Islam in his teens – met in 2015 at Carleton University in Ottawa.

"Me and Jay never actually knew each other personally, we just happened to be in the same class together," Zaher said. "Jay had already started doing phone videos recording himself recording halal bars and I really liked his talent so we got together and started doing videos online and they would go viral."

Shortly after, Zaher and Deen contacted their current manager Sami Abboud, who has been working in the entertainment industry for over 15 years. Together with Abboud, they created Deen Squad – Deen meaning religion in Arabic.

"It's been a challenge – going against the grain, but despite the struggle we have come far," Abboud said, explaining that the group has had to refuse record deals that could change their lives, and compromise their creative rights.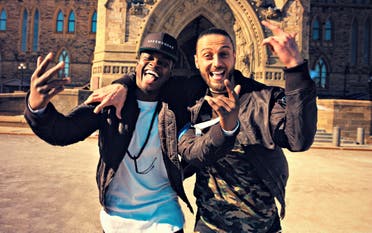 'Real essence of hip-hop'
Zaher and Deen explained that hip-hop was a way for them to deliver a message to the world.

"We believe hip-hop is the greatest form of expression musically," Deen said. "Even if you look at the beginning of hip-hop in the 1970s, rap artists would rap about an issue, speaking about their life about the problems of the community."

He explained that the group aims to reveal the "real essence of hip-hop" as the genre is presently associated with negative connotation.

Additionally, Zaher believes that because hip-hop is a genre that the youth in North America listen to, the group could use it to have a positive impact on children - mainly those who are losing touch with their religion and families.

"What's going on in the world right now is so bad, what we are doing now is the cure," Zaher said.

"At the end of the day our biggest aim is to destroy all [negative] stereotypes," Deen added.