Saudi Arabia's Deputy Crown Prince Mohammed bin Salman has discussed the dangers of the recent Iran nuclear deal with United President Donald Trump, emphasizing Tehran's expansionist agenda by supporting extremist groups in the region to further their goals of "reaching Mecca".
The details of the private talks between the Saudi Prince and American president were revealed on Wednesday by Bloomberg news who quoted a senior adviser to Prince Mohammed bin Salman.
"Prince Mohammed bin Salman has stressed how bad and very dangerous the nuclear deal is on the region and that it is going to hold the Iranian radical regime back for a short period of time in their quest for producing a nuclear weapon. This deal could lead to a more dangerous and continuous armament among the region's countries that will not accept any Iranian nuclear military capacity," the source was quoted as saying.
It appears both Trump and the Saudi prince were on the same page regarding Iran's expansionist moves in the region.
Infographic: Iran's finding of terror groups across the Middle East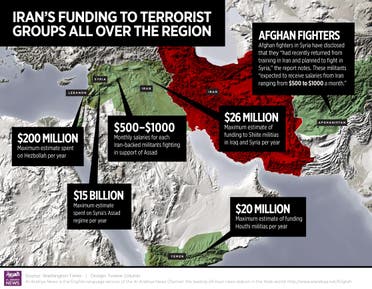 "Iran is trying to gain its legitimacy in the Islamic world by supporting terrorist organizations with the aim of reaching Mecca, the Qibla of all Muslims, which gives them the legitimacy they lack in the Islamic world," the source added.
According to a private US government report ordered by Sen. Mark Kirk in 2015, Iran was reported to have spent billions of dollars in payments for foreign fighters' salaries across the Middle East.
"Iran's defense budget ranges anywhere between $14 billion to $30 billion a year and much of that money goes to fund terrorist groups and rebel fighters throughout the region," the report suggested.
Researchers who worked on the report estimated Iran spends anywhere between $100 million and $200 million per year on Hezbollah, $3.5 billion to $15 billion per year in support of Syria's Assad Regime, $12 million to $26 million per year on Shiite militias in Syria and Iraq, $10 million to $20 million per year to support Houthi rebels in Yemen.
It is worth noting that Houthi militias targeted Mecca last year when they fired a ballistic missile toward to Holy Land only for their efforts to fail after coalition forces intercepted the rocket.