Britain's Minister Tobias Ellwood tried to save the life of the policeman who was attacked just outside the gates of the UK House of Parliament. The minister attempted mouth to mouth resuscitation but in vain.
The Minister of Foreign Affairs and the Tory member, Tobias Elwood, was captured next to the policeman, who was stabbed to death. Elwood tried to save the policeman and stayed by his side in spite of the risks. Al Arabiya's camera captured the minister in a state of disappointment and grief over the death of the policeman.
Reports stated that Ellwood lost his brother in a terrorist attack in Bali in 2002.
Related: Is this the man behind the UK Parliament attack?
Several local media outlets in Britain and the Internet said that Elwood spent an hour after the accident trying to save the policeman, along with doctors who arrived at the scene immediately after the accident. However, the policeman died an hour later.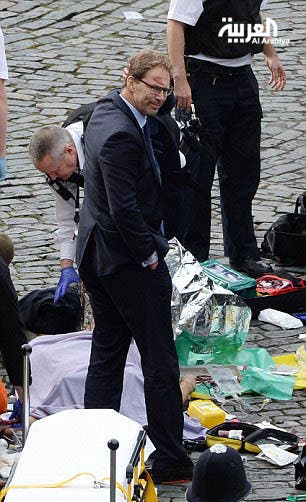 Elwood was hailed on social media as a hero. He tried mouth to mouth resuscitation to rescue the policeman as soon as he was stabbed at the door of parliament. While police fired at the attacker, the minister put his life at risk. He could have been the second victim of the attack if the police hadn't killed the assailant.
Related: PHOTOS: Chaotic scenes at Westminster after UK Parliament shooting
Elwood appeared in the picture taken from the scene with some blood on his head, looking tired, disappointed and sad over the death of the policeman.
Tobias Elwood is an elected Member of Parliament (MP) for Bournemouth East and he is also an ex-military.
Related: VIDEO: Sudden moment UK Parliament suspend sitting after shooting