'Convert, leave, or die:' Iraqi Christians and the dream to return to Mosul
In the summer of 2014, Mosul was for the first time in its history almost totally emptied of Christian civilians. More than 200,000 of Iraqi Christians, who make up the fourth largest indigenous Christian population in the Middle East, were forced to flee the city following invasion by ISIS whose leaders gave them the choice to convert, leave, or die then seized their houses and burnt their churches. It was only recently that the Christians of Iraq started harboring hopes of returning to their homes as Iraqi forces managed to reclaim the city, which was home to one of the world's most ancient Christian communities.
Reverend Daniel al-Khari, a Chaldean priest who oversees a Christian refugee camp in Erbil in Iraqi Kurdistan where large numbers of Christians fled, argued that ISIS's departure from Mosul makes it possible to return, yet not safe. According to him, it is not about ISIS's physical presence as much the culture the group managed to nurture in the city. "We can go back but it is a question of safety. We are dealing with a new generation bred by ISIS - they have a radical anti-Christian viewpoint and so it would be really hard to go back," he said, arguing that with the spread of fanaticism he doubts that Muslim and Christian communities can co-exist. Al-Khari particularly referred to ISIS's recruitment and radicalization of children, who came to be labeled "caliphate cubs" and were instructed to walk around the city armed with knives and guns. "It would be very hard for children here and children in Mosul to get together," he added. "We really need to work with the children in Mosul to change what ISIS has implanted there."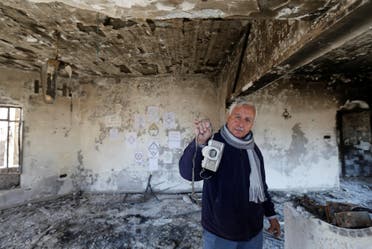 Long before ISIS
Romeo Hakari, head of Assyrian Christian political part Bait al-Nahrain, said that the threat to the existence of the Christian community in Iraq started long before ISIS, particularly with the 2003 US invasion of the country. Hakari blames Western countries for encouraging Iraqi Christians to settle outside Iraq instead of supporting them to rebuild their homes and churches and defend themselves. "European embassies in Iraq, especially the French and German embassies, have facilitated the migration of our people," he said, adding the leaders of the Iraqi Christian communities are holding meetings with EU and US officials to demonstrate the downside of this approach. The Iraqi Christian Relief Council, on the other hand, said that Christians, estimated at 1.5 million before the US invasion, were subjected to systematic persecution as part of the sectarian violence that started in 2003 and continued with the emergence of ISIS so that now the Christian population has decreased by almost 80%.
While admitting that Christians in Iraq were victims of the sectarian conflict the followed US invasion, Joel Velkamp traces their persecution back to the era of Saddam Hussein. According to Velkamp, Hussein used his war with Iran as a pretext for getting rid of as many Assyrian Christians as possible since he felt threatened by their affirmation of their non-Arab identity. "Assyrian Christians found themselves drafted for the war more often than other groups. 40,000 of them never returned from the battlefields," he wrote, adding that during his war on Kurds Hussein also destroyed 120 Assyrian villages and killed over a thousand Christians, including priests, which drove Christians to flee the country.
Different factions
Iraqi writer Gawhar Audish argues that another problem that would hinder the resettlement of Christians in their hometowns is the current conflict between different Christian factions. "There are several armed Christian groups in the Nineveh plain and each is fighting for its own agenda and I wonder how they're capable of doing so at such a critical time when they should unite to liberate their towns from ISIS," he wrote. Audish cited the struggle between the Babylon Brigades and the Syriac Democratic Union as well as attempts by the Nineveh Plain Protection Units, founded by the Assyrian Democratic Movement, at monopolizing power in Christian areas. Audish called the conflict between Christian factions one in which "dwarfs" fight over "leftovers."
Several Iraqi Christian figures accused the state-sponsored Popular Mobilization Forces of arming warring factions, thus intensifying the conflict. "The struggle for power in Christian areas led the Chaldean Babylon Brigade to storm the headquarters of the Syriac Union in southern Mosul and abduct the leader of the Syriac Eagles Battalion," said activist Haithan Bakou. Writer Caesar Hermes said that several Christian militias are vying for power in the Nineveh plain. "Examples include Lions of Babylon, Babylon Brigades, the Syriac Children Squadron, Syriac Eagles, and Nineveh Plain Protection Units," he said, warning that the situation is bound to escalate if heads of different Iraqi churches do not take a unified stance against the conflict that "is bound to have graver consequences than the ISIS invasion," as he put it.
A sizable number of Christians, however, seem to be quite hopeful, which was demonstrated in their return to several liberated parts and the cross they raised on top of a hill outside Mosul as they cheered "Victory for those who chose faith and those who return." According to the Chaldean Catholic Patriarch of Baghdad Luis Rafael Sako, the erection of this cross delivers a message to the whole world. "Our ancestors were buried in this pure land and we are going to remain to preserve them with all our might and for future generations," he said. "It is a sincere and great call to return and rebuild." Sako held the first Mass since the ISIS invasion and described it as "the first spark of light shining in all the cities of the Nineveh Plain since the darkness of ISIS" and reassured the congregation that they are finally back in their land.