Khamenei ally is accusing 'Iran's liberal enemies of delaying the Mahdi's appearance'
A representative of Iran's Supreme Leader Ali Khamenei in the Revolutionary Guard, Ali Saidi, said in a speech that the Khomeini revolution in Iran paved the way for the emergence of Imam Mahdi, which is the last stage before his appearance, but that "there are enemies delaying his arrival."
According to Islamic theology, the Mahdi is the prophesied redeemer of Islam who will rule for a number of years before the Day of Judgement.
Saidi has accused secularist and liberal front in Iran, of delaying the emergence of the Mahdi.
The official Iranian news agency IRNA quoted Saidi as saying at a meeting of the Revolutionary Guards clerics' last Wednesday. Saidi recognized two "specific enemies one being an external enemy embodied in the United States of America and the others being internal enemies represented by the liberals and seculars in Iran."
Saidi is known for making controversial statements about the sanctification of Khamenei's regime. Last June, at a sermon in the province of Gilan northern of Iran, Saidi claimed that Khamenei "communicates with a divine source through revelation, occultism and diligence".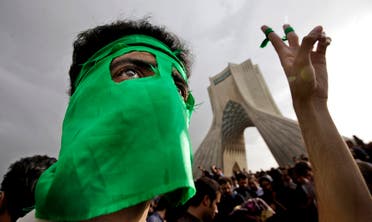 He also said that "the Guardianship of the Islamist Jurist does not require legitimacy from the people, since it represents the divine judgement, and the people must accept the orders of the Islamic Jurist, as they accept the orders of the infallible Imam".
Saidi also courted criticism for another controversial statement about Iranian influence and expansion in the region, when he said in a speech that "Iran's strategic influence extends from Bahrain to Iraq, Yemen, Lebanon, the shores of the Mediterranean and even Latin America".
On Tuesday, the European Union extended sanctions for another year against 82 Iranian figures, including Saidi, for serious human rights violations.
Saidi played a key role in suppressing the green movement protests following Iran's presidential elections in 2009. The oppositional director Mohamed Nouri Zad broadcasted a tape in which guard leaders spoke, including Saidi, about details of the suppressing the protests that began in June 2009 against the presumed manipulation of the votes that led Mahmoud Ahmadinejad to win a second term.