A Dubai-based doctor has confirmed to Al Arabiya English the current preparation to move the world's former heaviest woman from India to a hospital in Abu Dhabi "in the coming days".
Dr. Shajir Gaffar, chief executive for Dubai and Northern Emirates at VPS Healthcare, confirmed that a medical evacuation team is currently in India's Saifee Hospital where Eman Abd El-Aty – who once weighed nearly 500 kgs - to evaluate her condition and prepare for her move to Burjeel Hospital in Abu Dhabi.
"The whole multidisciplinary medical team is in India, led by Director of VPS Medical Evacuation department Senet Meyer. Logistics on a chartered flight for bed-to-bed transfer of patient Eman has taken shape and we are honored to conduct the mission within the next few days to UAE," Gaffar told Al Arabiya English.
Gaffar also confirmed that authorities at UAE's ministry of interior have already issued an indefinite long- term courtesy entry visa, which Al Arabiya has obtained copies of, for Abd El-Aty and her sister Shaimaa.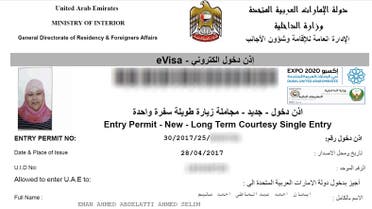 "We are very thankful to authorities in UAE and India for all the support extended so far. We are planning for a complete rehabilitation until all (of Eman's) health parameters are controlled and once we know that she will lead a good quality life. This is part of VPS Healthcare Burjeel Hospitals corporate social responsibility," Gaffar added.
Falling out with Indian doctors
Abd El-Aty's case has gained worldwide attention in recent days following a row between her sister Shaimaa and hospital officials in India. Indian doctors claimed in recent weeks that Eman had lost "more than half her weight," while her sister however has alleged that Eman has not lost as much weight as the hospital was claiming.
Shaimaa also claims that doctors at Saifee Hospital in Mumbai are forcing Eman to be discharged and are using her case for publicity. She posted disturbing images and videos of Eman during her paralysis attacks.
On Thursday, Saifee Hospital authorities reportedly called the police after Shaimaa gave water to Eman to sip without informing the doctor, because her sister was thirsty. Eman, who weighed 500kg before undergoing surgery in India last February, reportedly cannot swallow and is being fed through a tube.
During an interview with Al Arabiya News Channel, Shaimaa said she is happy to accept an offer from the UAE as she had "lost complete trust and hope regarding Eman's care in India".
"We have to find an alternative route to take at this point as I have lost complete hope in the Indian doctors. They told us that they will send Eman back to Egypt in the coming week but her condition is not stable as she is suffering from seizures and going in and out of comas. We hope we can find another hospital that will take her in," she told Al Arabiya.