United States President Donald Trump received Saudi Arabia's Crown Prince Mohammed bin Salman in Riyadh on Saturday and discussed further way of enhancing ties between both countries.
During the meeting, both discussed the various aspects of Saudi-US cooperation in several fields, especially in the economic sphere, in addition to discussing developments in the Middle East region, including the efforts exerted by the two countries in combating extremism and terrorism.
Before the meeting, Trump also met with Saudi Arabia's Crown Prince Mohammed bin Nayef and discussed counter-terrorism measures.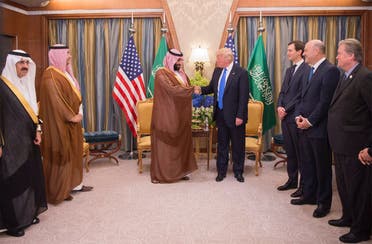 The Riyadh Summit on Saturday witnessed the signing of strategic agreements between the two countries in the fields of defense, oil and petrochemicals, and others worth nearly $280 bln.
He is also expected to give a speech later on Sunday on the Islamic faith during a US-Arab Islamic Summit with nearly 50 other Muslim-majority country leaders.