Global Center for Combating Extremism in Riyadh adopts unprecedented techniques
World leaders, including Saudi King Salman bin Abdulaziz and US President Donald Trump, inaugurated the Global Center for Combating Extremism headquartered in Riyadh as the US-Islamic Summit came to a close on Sunday.
Riyadh hosted on Saturday and Sunday three anticipated summits during Trump's visit to Saudi Arabia with nearly 50 leaders, mainly from the Muslim world will be attending.
"We want to convey a message to the West and the world that the Muslim world is not an enemy," Saudi Foreign Minister Adel Al-Jubeir said.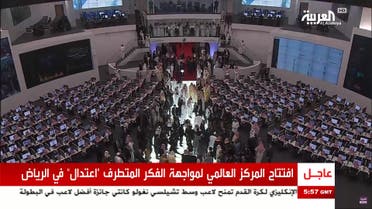 - The center is established as a result of the international cooperation in facing the extreme ideology leading to terrorism, the world's first common enemy.
- It was founded by a number of countries who chose Riyadh as its headquarters in confronting extreme ideologies by monitoring and analyzing it, to confront and prevent it, cooperate with the governments and organizations to prevail and promote a culture of moderation.
- The center was established on three basic pillars: confronting extremism by the latest intellectual, media and numerical methods and means
- The center has developed innovative techniques that can monitor, process and analyze extremists' speeches with high accuracy, all phases of data processing and analysis are done in no more than six seconds once the data or comments are posted on the Internet, allowing unprecedented levels of facing extremist activities in the digital world.
- The Center works to refute the hate and extremist speech and promote concepts of moderation, accepting the other, and the production of media content that confront the content of the radical thoughts in order to defy it, and reveal its promotional propaganda.
- The center includes a number of international experts specialized and prominent in confronting extremist speech on all the traditional media means and electronic world.
- The center operates in the extremists' most widely used languages and dialects. Advanced analytical models are being developed to locate digital media platforms, highlight extremist focal point, and secret sources of polarization and acquiring activities.
- The importance of establishing the center lies in that it is the first time that the world countries seriously come together to face the threat of extremism, which poses a threat to the communities and endanger them, therefore it is the center's duty to fight together to win and to be able to protect people from its danger.
- The selection of the (12) representatives of the Board of Directors from states and organizations; reflects the independence of the center's work, which is characterized by a governance system that applies international management best practices of major international organizations, which allows neutrality, flexibility, efficiency and transparency to fulfill the Center's functions and achieve its objectives.