After a three-year absence, Yazidi human rights activist Nadia Murad has finally returned to her home in the village of Kojo in northern Iraq, the Erbil-based Rudaw, a private online newspaper, published an emotional video of her coming back to her ruined home on Thursday.
Murad, who is a Goodwill Ambassador for the Dignity of Survivors of Human Trafficking of the United Nations (UNODC), was initially seen walking slowly to her wrecked home but later knelt down in hopes of finding any family belongings while her sister wailed emotionally nearby.
"What is left is just the bones of our brothers, fathers and mothers," she told reporters after her emotional return to Kojo, which is about 20 km south of Sinjar city in the Nineveh province.
Sinjar city, where Yazidis were mostly concentrated, came under an atrocious attack by ISIS in August 2014, which saw thousands of Yazidi women taken as sex slaves and their men killed by the militant group.
Kidnapped by ISIS in August 2014, Murad risked execution when she escaped after three months in captivity.
After her escape, she became an activist, visiting different countries in the region to raise awareness over ISIS' brutality and garnering further support to help other Yazidi women under still held hostage by ISIS.
"Even at home I have nothing left from my mom to take with me," she said, adding that she could only find some items of her older brother, whom she considered like her father.
Asked what message she had after seeing her home in ruins, she said: "I became a victim, an orphan, a refugee; my message is to come and see."
She pressed on the Muslim world not to show ISIS any "mercy" and urged the Iraqi government to start bringing ISIS supporters to justice.
"For an hour I could not find anything from my mom," she reiterated, "our [Muslim] neighbors, whom my mom used to bake bread for, in an hour, they allowed ISIS in, and started seeing us as kufar [infidels]."
"Today is the day of revenge from our enemies. We seek justice. Don't you hear my sister wailing?"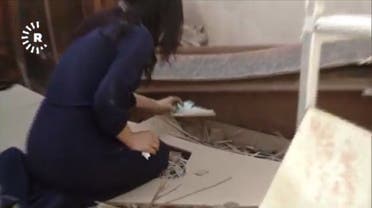 Muard, who was a Nobel Peace Prize nominee last year, told Al Arabiya News Channel in an interview that her community "wants a stronger stand from Muslims against" the militant group.
Meanwhile on Thursday, at least seven civilians were killed and 23 wounded by ISIS mortar shells as they tried to flee Mosul's militant-controlled Zanjili district on Thursday, Iraqi police said.
The fall of the city would, in effect, mark the end of the Iraqi half of the "caliphate" declared in 2014 over parts of Iraq and Syria by
ISIS leader Abu Bakr al-Baghdadi, in speech from a historic mosque in Mosul's old city.
Mosul is the capital of the Nineveh province.