How Qaradawi used the International Union of Muslim Scholars as a political tool
Yusuf al-Qaradawi established the International Union of Muslim Scholars in Doha back in 2004 in order to bring to bring together Sunni, Shia, and Ibadi Muslim. However, the union was quickly used as a political tool to prop up Islamist parties like the Muslim Brotherhood.
Egyptian-Qatari hardline cleric Qaradawi was recently designated as a terrorist by Saudi Arabia, UAE, Bahrain and Egypt after years of supporting extremist groups and encouraging suicide bombings.
The Union, which was established in 2004, set its goals to be civil rather than political, as stated by its president. But it appears in the statements of its officials that the union moved away from the demands of the people, and become a tool used for political reasons by its host Qatar.
The union recently issued a statement condemning the severing of ties between several Gulf and Arab countries with Qatar, describing the boycott as a blockage and siege and demanding it be lifted. The union also condemned the inclusion of Qaradawi, Ali al-Salabi, Sadiq Al-Ghariani and others who were included in the Qatar-linked terrorism list, saying their designation on the list was done "without evidence or proof".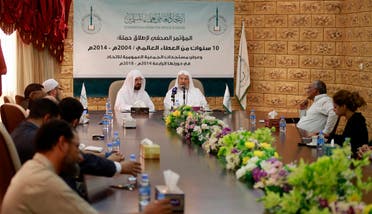 This is not the first time that the union has issued statements that violate its institutional work. Such actions were repeated a few months ago by a statement supporting the constitutional amendments that strengthened the powers of Turkish President Recep Tayyip Erdogan.
The union is financially supported by Qatar's former Emir Sheikh Hamad Al Thani, and it has been based in Doha and has sought such populist rhetoric over the past 13 years since its founding to dominate the street and played an inflammatory role by issuing statements and positions of a partisan political nature, inciting chaos across the region in doing so.