Local sources in the province of Hudaydah, west of Yemen, confirmed that Houthi militias were selling cholera drugs provided by international relief organizations, in a move that would impede the rescue of thousands of people living in the province.
Witnesses said that Houthi militias in the Directorate of the north of Hudaydah, were selling free drugs intended to cure cholera and provided by the Red Cross and the world health organization
According to the same sources, the Houthis and the doctors working with them are selling one dose of medicine at a rate of 1,000 Yemeni Riyal and they want to continue selling it to the people of the Directorate where hundreds of people infected with the cholera epidemic were unable to buy the medicine due to extreme poverty.
Local sources confirmed the existence of medical treatments bearing the names of international and local organizations in private pharmacies, sold by the militia leaders in the black market, which made patients resort to buy treatment from pharmacies at their own expense.
There have been recent media reports about the involvement of Iranian and Lebanese advisors from the terrorist group of Hezbollah in assisting the Houthi coup on how to exploit the cholera epidemic, provide an environment conducive to its spread, blackmail the international community and exert pressure under the pretext of humanity to ease the sanctions after their political and military defeats.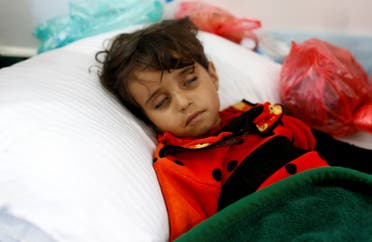 The reports quoted credible Yemeni sources as confirming that these advices focused on explaining how the coup militias ought to exploit this humanitarian crisis to their favor stressing that the international community would not act to stop the military operation of the Yemeni National Army and the Arab Coalition to restore the city and port of Hudaydah unless a humanitarian crisis stands in the way emphasizing that the cholera epidemic is an important opportunity to be exploited.
The militias rushed to implement these instructions, preventing medical staff under threat from providing necessary assistance to fight the epidemic, and averting Sanaa hospitals from receiving patients.
In May, eyewitnesses reported that the Houthi militia had prevented the entry of cholera medicines for cholera-infected abductees in prisons after the outbreak of the epidemic at the correctional institution, especially in the prison of Habra east of the capital Sanaa.