Twitteratis attacked a fabricated media story from Al Jazeera, Qatar's news channel, which claims that a London transport campaign is organized in solidarity with Qatar, in the light of the dispute with its Gulf neighbors and Egypt.

It turned out to be nothing more than a paid advertising campaign by Al Jazeera correspondents and press crews to manipulate and stir the viewers' opinion.

The channel repeated a footage showing some taxis in London covered with slogans calling for the lifting of the 'Qatar blockade'.

The correspondent said that many British voices are in solidarity with Al Jazeera and hundreds of taxi drivers are taking a stand in support of Qatar, an act that will extend to the coming weeks.
الكذب عند قناة الجزيرة القطرية
تحول إعلان مدفوع مع تاكسي لندن إلى حملة تضامن مع قطر !!!

الخطوط القطرية سبق ان قامت بحملة مع نفس التاكسي !!! pic.twitter.com/RQ4tOpSWS8

— عبدالهادي السلمي (@A_a_sulami) July 12, 2017
Staged coverage
The staged coverage then shifted to an on-air interview with one of the channel's well-known hosts to cover what they wanted to portray as a spontaneous demonstration.

The report focused on the weather and the close ties between Britain and Qatar, and its billions of dollars investments in the commercial and real estate fields, with the taxis lined up by the buildings.


Once the report was broadcast, Qataris expressed their pride of what they called "solidarity from the world's largest companies with Qatar," calling on the Gulf countries to stick with Djibouti, the Maldives and Mauritius.

Social media followers reacted with sarcasm as soon as it was aired. Many of the tweets reflected 'surprise' by what they considered a media scandal.

Most of the cabs which carried the slogan were paid for, and were parked near buildings owned by the Qatari government or its sovereign fund or parties close to it.
Not fooled
Non-Qataris were not fooled by the cheap gimmick and social media users took to Twitter and posted photos of cabs that are painted with slogans as part of an advertisement campaign in London by Gulf airlines, including Etihad Airways, Qatar Airways and Air Arabia.

Photos posted by transport advertisement companies in Britain showed cabs with banners for the football game which was held in London between the Saudi Al-Nasr and Al-Hilal teams.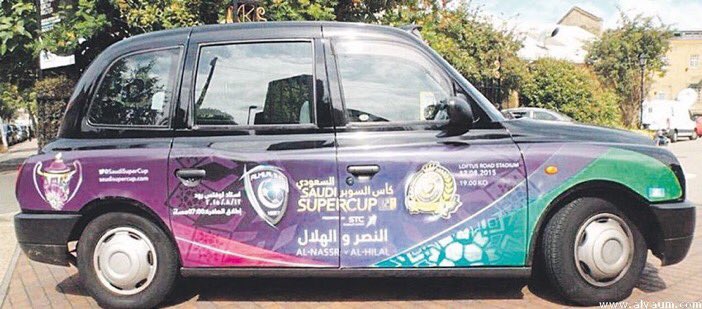 Twitter users mocked the Al Jazeera report saying "London is in solidarity with Saudi Arabia" and used a photo that advertises Saudia airlines.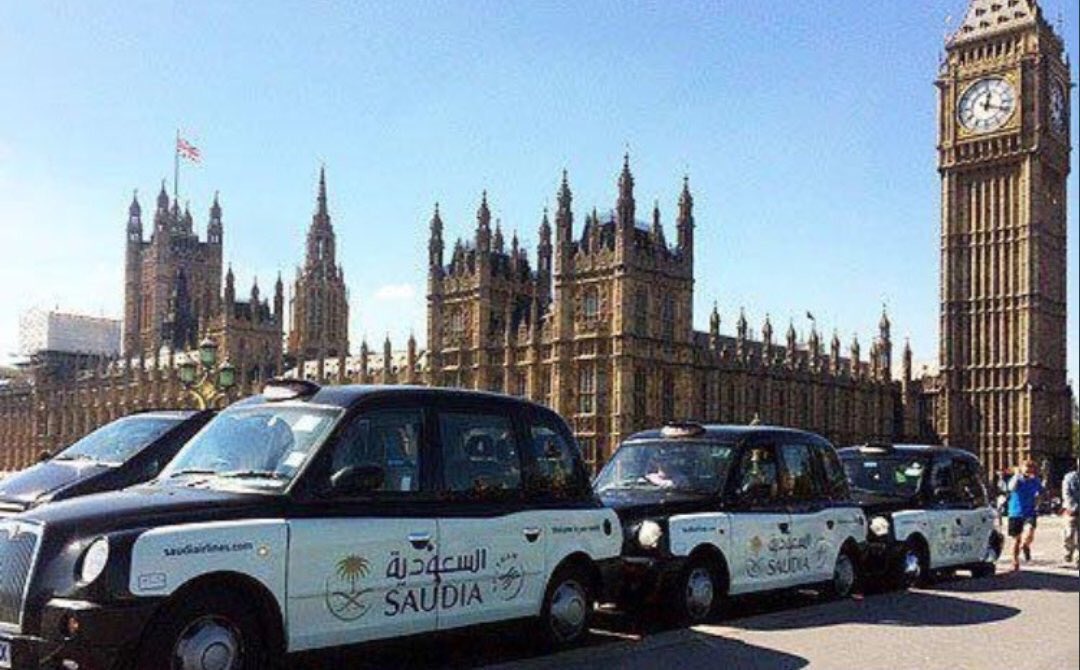 Advertisements on taxi cabs is ubiquitous in the United Arab Emirates, via the Dubai transportation company.
تكاسي العالم تضع الإعلانات بمجرد دفع لها مبلغ معين لتستفيد.. قطر دفعت لعدد من تكاسي لندن لوضع علمها كإعلان متحرك ثم قالت حملة لدعم قطر pic.twitter.com/Ovaz7mUPzw

— ALI ALHAMMADI (@HammadiAD) July 12, 2017
Transport ads in UK
In Britain, however it dates back to 1928 according to some British dailies. Such ads were popular for a few years but they were suspended later after public transportation companies complained that they negatively impacted their advertisement profits.

Cabs were used again for advertisements in 1982 but it peaked in recent years as most of the 17,000 London black cabs advertise on a daily basis.

Dozens of companies that specialize in advertising on cabs were thus established. Clients can contact these agencies and choose from the available rates and formats.

Most of these companies do not clarify how much these advertisements cost, claiming that there are many factors affecting the pricing.

However, advertisement experts said the client pays around $9,007 (£7,000) a year and the driver gets between $1,287 (£1,000) and $3,216.73 (£2,500) from that amount. Between $1,930 (£1,500) and $2,573 (£2,000) goes for painting and finishing the advertisement.

According to some experts, a small advertisement on a seat inside the cab costs around $39 (£30) a month, and the driver gets half the amount.
ALSO: German Embassy: FM did not make any statement to Al Jazeera channel