Controversy surrounds Nawaz Sharif as documents listed him UAE employee while serving as PM
Controversy surrounds Pakistani Prime Minister, Nawaz Sharif, after documents revealed he was employed in a Dubai freezone company while serving the highest office in Pakistan.
A high profile joint investigation team (JIT) submitted a report to the Supreme Court of Pakistan last week confirming that Sharif was registered as an employee with this company till 2014.
The report revealed that he did not disclose this information before running for the highest public office in 2013, which is against the Constitution of Pakistan. His family, however, denies the report and says that his employee status was maintained only for visa purposes.
As per the document released, Sharif was chairman of Dubai-based company – FZE Capital – receiving a salary of AED 10,000 per month. The JIT findings are based on its correspondence with Jabel Ali Free Zone Authority (JAFZA), UAE. As per the document, Sharif was employed with the company till 2014. He became the Prime Minister of Pakistan for the third time in 2013.
Appalled and saddened
Several Pakistanis in the UAE expressed shock and dismay over the turn of events and said such acts damage the country's image. Speaking to Al Arabiya English, Dr. Salman Hameed said that he is appalled and saddened by the news.
"The fact that our sitting prime minister has been breaking Pakistan's law in order to get a visa for the UAE is disgraceful. Our heads should bow down in shame," said Dr Salman, an orthopedic surgeon working in UAE for over a decade.
Another Pakistani, Faraz Waqar, said that this is extremely embarrassing for the entire community. "I am absolutely ashamed to know that Nawaz Sharif was on a work visa in the UAE while also serving as prime minister of Pakistan. This is unpardonable and I wonder how the country can make progress with such people in power", said Waqar, who works as a marketing manager in a production house in Dubai.
Documents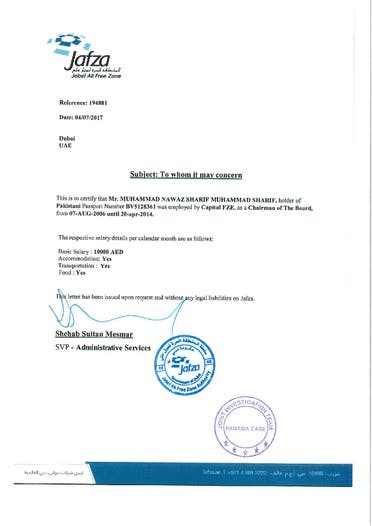 Sharif family responds
However, Hussain Nawaz, son of Nawaz Sharif, has rejected this finding. He said that his father never received any salary from the aforesaid company.
Speaking to a local media Hussain said that his father was appointed as chairman only for facilitation of visa and visits to the UAE in 2006. According to him, the company was later dissolved in 2014.
A former judge in Pakistan told Al Arabiya English that, if it is indeed true that Sharif was holding a position of profit, which was not declared and he also did not resign before entering into a public office, then he can face disqualification for violating his oath of office.
Shaiq Usmani, former judge in Sindh High Court, said that the Constitution of Pakistan does not allow any person [in the public office]'s personal interest to influence his official conduct or any official decisions.
Explaining the constitutional position, Judge Usmani said: "Considering that holding an office in a business organization and drawing remuneration from there could give such person an incentive to use his public office to benefit himself or may result in his official decisions being influenced in the event there is a conflict between his two positions, holding of office in a business organization will be violation of oath and as such could result in the person being disqualified to hold public office".