Houthi coup militias have been reportedly withholding three vehicles loaded with cholera medications for a fourth day in a row in the province of al-Hudaydah, west of Yemen.
Local sources confirmed to Al Arabiya English that al-Hudaydah customs director, who was appointed by Houthi militias, is withholding aid medicines and insists on imposing customs duties on it, rejecting orders to release them and facilitate its entrance.
Medical sources also confirmed that these medicines, which are held on board convoys of vehicles in the customs yard are being exposed to the sun which means they have probably been damaged and no longer valid for medical use. They also pointed out that maximum one-day exposure to the sun in the very high temperature coastal city of al-Hudaydah during the summer is enough to destroy it, while these shipments have been detained for four days so far.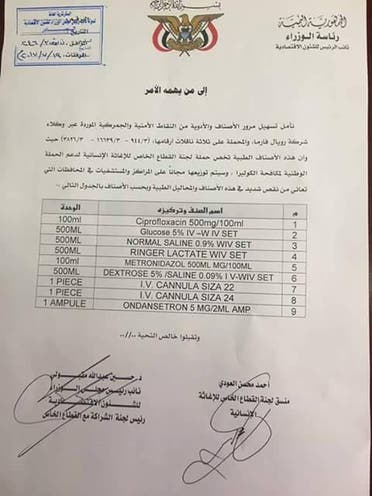 Houthi militias are taking advantage of al-Hudaydah port in western Yemen, the last port under its control, to steal relief aid, smuggle weapons and use it as a military base to threaten international shipping, according to the legitimate Yemeni government and the Arab coalition forces.
Stealing and trading the cholera medicines by the coup militias and preventing it from reaching the Yemenis resulted in an unprecedented spreading for the cholera epidemic in the areas under its control, where the number of victims reached 1,828 cases since last April and 368,000 more 207 cases, according to the latest statistics of the World Health Organization.