Study finds UK ethnic minorities earning up to £8,900 less than white households
London - Household incomes of ethnic minorities in the United Kingdom account for a lot less than white Britons, according to recent research by a think tank focusing on living standards of ethnicity groups.

The Resolution foundation that compiled the study found a typical Bangladeshi household incomes £8,900 a year (35 percent) lower than the average white Briton, while a Pakistani house hold brings in £8,700 less (34 percent). A typical black African family also earned £5,600 less than that of a white household.

Although these large income gaps are persistent, they have narrowed as Bangladeshi households experienced the fastest income growth of 38 percent in real terms between 2001-2003 and 2014-2016, and 28 per cent for Pakistani household compared to 13 percent for the White British group. Whereas growth for Black African household was 11 percent.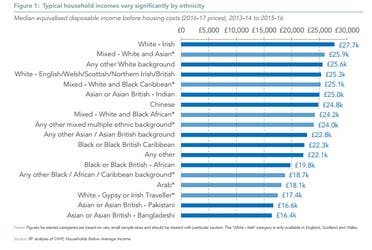 According to the report, employment differences provide part of the reason for household income differences. Only 37 per cent of Pakistani women and 35 per cent of Bangladeshi women are employed in comparison to 72 percent of white female employment. Black female employment rates have increased substantially and exceeded black Caribbean in the 14-year period.

Age and family size can also explain some differences in both living standard and faster income growth for some groups.
Adam Corlett, senior economic analyst at the Resolution Foundation, said understanding of how living standards differ across ethnic groups is "significant and persistent" and "too often go ignored".
"However, we should be encouraged by the fact that there have been big improvements in some instances, such as the impressive employment gains seen among Black, Bangladeshi and Pakistani men and women", Corlett said.
The finding of this research is good news as the long term ethnic divisions is narrowing but the scale of household income differences remains a worry.