King Salman ensures 104-year-old Indonesian pilgrim receives necessary care
Mecca, Saudi Arabia - Saudi Arabia's King Salman ensured that the 104-year-old Indonesian pilgrim, Maria Marghani Mohammed received the maximum care during Hajj along with her companions.
Maria thanked King Salman for his generous hospitality and the care and support she has received. She stressed that this attention and care mirrors the spirit of generosity and level of services Saudi Arabia provides to its guests and the pilgrims.
She expressed her feelings of joy over the safe access to the holy sites, praying to Allah to bless and reward King Salman for granting her a comfortable journey into Hajj.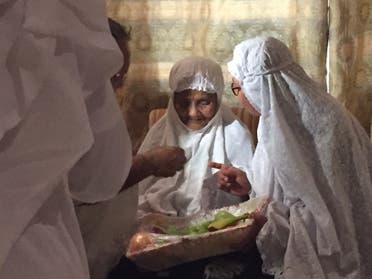 104-year-old Maria is believed to be the oldest pilgrim performing Hajj this year. She is from the island of Lombok, Indonesia.
Maria performed Umra in 2007, but this is her first time to perform Hajj. It took her so long after delays from the Indonesian government to grant her the opportunity to make it to Hajj.
She was taken immediately to be checked by a doctor upon her arrival to Mecca in order to ensure that her health issues were addressed.
Maria's granddaughter told Al Arabiya English: "This is a dream come true for us that we're here with her and seeing her perform Hajj. She is very old but is still strong willed.
We would like to thank Saudi Arabia, King Salman and the Saudi people for their hospitality and generosity in welcoming and hosting us," she added.
(Additional writing by Lamiaa Elkholy)