How Qatar staged an assault: Video shaming Hajj pilgrim who praised Saudi Arabia
A video purporting to show a Qatari pilgrim being beaten and insulted by alleged Saudis turned out to be a staged social media campaign organized by Doha in order to take revenge on him because he performed Hajj, according to his brother.
The video forced the victim's brother to confirm that the pilgrim was arrested by Doha's interior ministry following his return from Saudi Arabia.
A video uploaded to YouTube on Wednesday evening showed a Qatari pilgrim, identified as Hamad Al-Marri, being beaten up by a man whom Qataris claimed to be a Saudi.
The video shows a man, who appears to be Hamad, being attacked during the Hajj season in an area in the desert.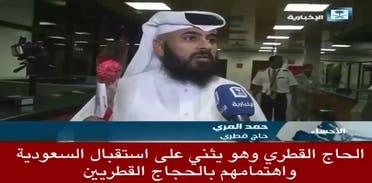 The alleged assailant had the pilgrim sitting on the floor with hands bound behind his back, while spewing abuse on him.
The Qatari victim had earlier appeared on Saudi Television on his arrival during the Hajj pilgrimage last week in which he praised the service provided by Saudi Arabia, thanking King Salman and the Saudi authorities for their actions.
Further revelations
Jaber bin Kohlah Al-Marri said he would reveal via Twitter on Thursday a video after communicating with his brother Hamad, who was released by Qatari interior ministry officials, explaining further details on his recent ordeal.
Jaber has earlier posted a tweet on Wednesday evening, saying he knew nothing about his brother's whereabouts except that Hamad was being held by Qatar's interior ministry regarding his criticism of the government during the Hajj pilgrimage.
He also said in a previous tweet that Qatari authorities had kidnapped his brother after he entered the Abu Samra land crossing from Saudi Arabia and held him incommunicado.
"The government of Qatar must release my brother Hamad Al-Marri… his praise for Saudi Arabia in serving and hosting Qatari Hajj pilgrims is not a crime," Jaber said.
Explaining how Qatar staged an assault on Hamad
Jaber also confirmed on Thursday morning that Qatar's government retaliated against the Al-Ghufrani branch of the Al-Marri tribe, of which Jaber and Hamad belong to, by stripping them of their citizenship.
The government also confiscated several of their properties and has forcibly displaced at least 6,000 members of their family, Jaber said early on Thursday.
Jaber Al-Marri had earlier told a local Saudi newspaper that his brother was arrested immediately after entering Qatar on Wednesday night at 8:40pm local time. He was detained while his wife and children were released and was held incommunicado.
The viral video appeared that night, pointing out that his brother was forced to take part in a staged video. Hamad was later taken into state custody and prevented from any contact with either his family or lawyers.
Jaber said he believes that the reason for Hamad's arrest was his appearance in a Saudi television interview in which his brother praised Saudi authorities' policies and their good dealings with Qataris during the Hajj pilgrimage, pointing out that his brother is known to oppose the Qatari regime.