Afflicted with war that has plunged the country into what the United Nations has called the worst humanitarian crisis since World War II, thousands of professionals in Yemen have endured the war without an income in over a year.
For Abdullah Saif al-Hakimi, a doctor at a local hospital in Taiz and an employee at the Office of Public Health, life has become increasingly difficult over the past year as he last received a salary in August 10 of 2016.
Cash casualties
"Life was already difficult when we were receiving the salaries because it was barely enough to cover anything, but now that I don't even receive anything, we only live with the most basic necessities," Hakimi, who supports a family of nine, told Al Arabiya English.
Many others are also suffering the same fate as Hakimi. According to him, all his colleagues at the hospital – which employs over 50 staff members – have also been without a salary for over a year but continue to work due to the high demand for medical services in the besieged city.
Since the start of the conflict in Yemen, which began shortly after the Houthi militias took control of the capital, civilians in Taiz have suffered a two-year siege. Continuous fighting of the Houthis, their allies (forces loyal to ousted president Ali Abdullah Saleh) with the Popular Resistance and the Yemeni Army who are supported by the Arab coalition caused the siege.
In addition to the conflict that has killed at least 10,000 people, civilians in Yemen are struggling with a cholera epidemic, famine due to soaring food prices and endless power cuts.

Several activists also reported that out of desperation, many residents in Yemen camped out in front of local governmental centers demanding their salaries, but died waiting.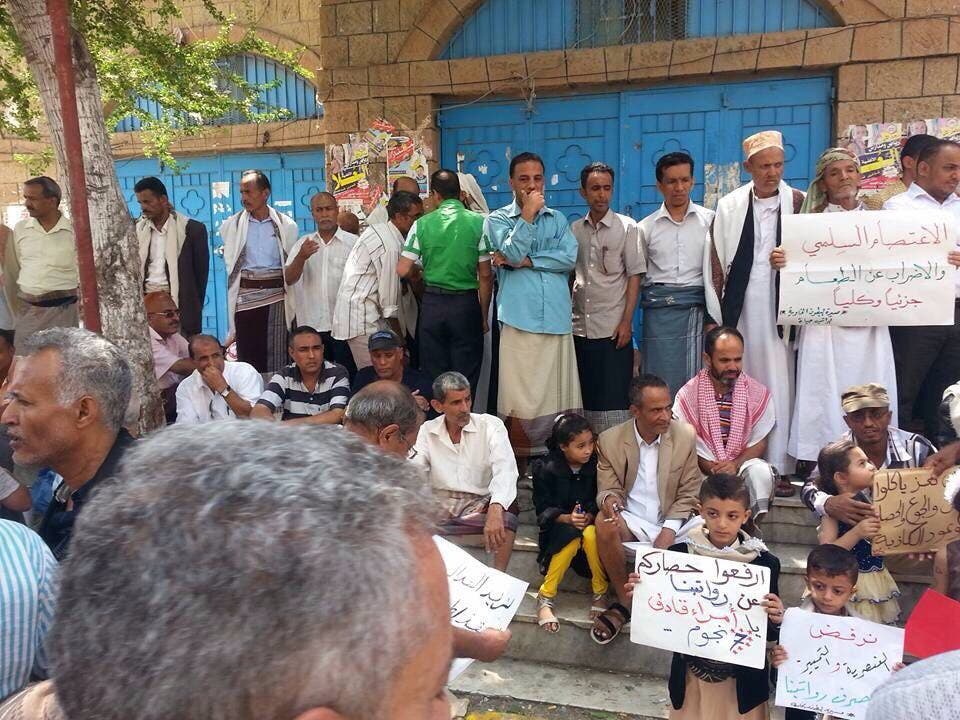 Economic meltdown
Some have suggested that the reason for the salary crisis is the decision by Abdrabbuh Mansur Hadi's government to shift Yemen's central bank out of Sanaa - which is controlled by the Houthis – to Aden. The administration in Aden said it had to move the bank because the Houthis had looted the state's funds. However, after the move, little has changed as thousands across the country are still without income.
Those relying on a state salary are suffering, local human rights activist Mohammed al-Rumim, who has also been living without a salary, said.
"All workers are affected, but teachers constitute the biggest number among them, with 55,000 teachers being in Taiz only," Rumim said.
Teachers Syndicate Secretary General Abd Rahman Maqtari said that teachers who have not received their income since October last year marched in Taiz on Saturday, calling on the Hadi government to pay their salaries.
"Imagine trying to live without a salary in a country affected by war," Maqtari said. "We have called on authorities several times to give us our salaries, but it falls on deaf ears."
Al Arabiya English attempted contacting officials from Hadi's government - who are currently based in Riyadh - but there was no response.
Earlier this year, Prime Minister Ahmad Obeid bin Daghr said that the government would create a system to pay salaries of the army and security forces through a database and by implementing a fingerprint system for paying salaries. There was no mention of creating a system for other state workers.
One teacher's tragedy earlier this year sent shockwaves across the country. In March, Mohammad al-Quhayme collapsed on the ground for an unknown reason after spending the afternoon in the streets of al-Hudaydah in search of food for his five daughters and two sons.
Unfortunately, like Quhayme, many Yemenis can no longer wait for a solution.