French magazine Le Point reported earlier this week that authorities in Qatar have arrested at least 20 members of the al-Thani ruling family for their opposition to the policies of Emir Sheikh Tamim bin Hamad regarding the ongoing diplomatic and economic crisis the country is facing.

The magazine obtained their information via direct contact with Jean-Pierre Marongiu, chairman of a French company currently being detained in Doha for the past four years for writing bad cheques, a charge he has denied.
The magazine said: "In a visit to Qatar, we got in touch over the phone with the French prisoner, Jean-Pierre first spoke on the prison's hygiene conditions, which have since the June 5th boycott inflicted by Qatar's neighbors have gone downhill, including the presence of cockroaches, facing bullying and intimidation. Marongiu then said that a number of the ruling al-Thani family were recently imprisoned."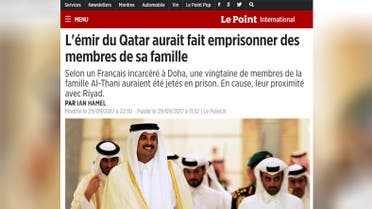 Others remain unknown
The French businessman said: "They arrested about 20 people. In my block, there are six members of the Al-Thani family."
At least four members were identified in the piece: Sheikh Talal bin Abdulaziz bin Ahmed bin Ali Al-Thani, Sheikh Abdullah bin Khalifa bin Jassem bin Ali Al-Thani, Sheikh Ali bin Fahd bin Jassem bin Ali Al-Thani and Sheikh Nasser bin Abdullah bin Khalifa bin Ali Al-Thani. Others did not want to state their name "in fear of revenge."

All four members belong to the Bin Ali branch of the al-Thani family, who was overthrown by Sheikh Tamim's grandfather several decades ago, said the magazine. Formal charges are often as usual, either due to writing bad cheques, embezzlement, or fraud. For young people, they are accused of drug possession, it added.
Other imprisonment charges
Marongiu continued saying: "Some members of the royal family here have been imprisoned before Saudi Arabia, the United Arab Emirates and Bahrain cut diplomatic ties with Qatar." However, the number of arrests increased since June 5, he added.
"Al-Thani is known to have origins from Bani (the family of) Tamim in Saudi Arabia, some 3,000 people, there is no doubt the some of them may commit crimes," said the magazine.
"However, the wave of arrests that only include members belonging to the Bin Ali branch should be linked to Sheikh Abdullah bin Ali's visit in August to the Kingdom of Saudi Arabia to thank Riyadh for allowing Qatari pilgrims to perform Hajj without hindrance," it added.
Qatari Emir rival
Le point said that French newspaper L'Orient-Le Jour at the time of the visit, revealed that Sheikh Abdullah received a massive greeting by King Salman and the crown prince. "Some see that Abdullah bin Ali al-Thani will be a potential rival to the current Emir," the magazine added.
"We tried to contact the French embassy in Qatar before to inquire about Jean-Pierre Marongiu's case, but we didn't get anything. As for our question about the possible arrests of members of the royal family, the embassy directed us to Paris – to the French Ministry of Foreign Affairs specifically."