Houthi militias are rapidly recruiting new staff and officials at Sanaa University and appointing academic leaders loyal to it, while terminating dozens of academics, employees and assistants as part of its plan to take full control over the educational institutions in Yemen.
The union of faculty members and their assistants at Sanaa University revealed that the University Council decided to terminate a large number of faculty members arbitrarily and have strongly denounced these procedures and demanded they be made void.
In its statement on Tuesday, the union called on all members of Sanaa University to confront these actions firmly and to stand against any dismissal or appointment procedures that violate laws, regulations and academic and administrative standards.
RELATED: Houthi event held in Sanaa University sparks uproar
The union affirmed its adherence to its legal right to take all necessary measures to defend the rights of all its members.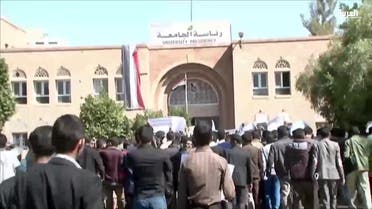 The union held the university presidency (appointed by Houthis) under legal responsibility if it continued to dismiss its employees arbitrarily.
The union warned of repeated attempts to strip Sana'a University from its academic cadres who are qualified and specialized in various science fields, aiming to replace them with incompetent members who do not meet the academic criteria and standards.
RELATED: Houthis attack Sanaa University protesters

Sanaa University's teaching union warned that these Houthi measures will deteriorate the educational level; affect the university's quality standards and reputation among regional and international universities.
Houthis are trying to make the educational institutions "denominational". While the minister of higher education in the unrecognized coup government, Hussein Hazib, who is from the deposed Saleh party, issued a vague media call to spare the educational institutions the conflicts.
He demanded in a statement on Monday to put an end to all those who harm the institutions of higher education and universities and damage them and their outcomes.
Several documents published last month showed that the Houthi-appointed president of Sana'a University, Fawzi al-Saghir, issued decrees appointing deans, deputies and assistants, and invented three positions that were not mentioned in the university's law and its executive regulations, which are assistant to the Vice-Rector and Media counselor.
These measures were strongly rejected by a number of colleges, which they considered to be a clear violation of university law and its executive regulations.