The French Touch: What the 'Carla Bruni effect' tells us about the Paris establishment
Pop singer and former first lady of France Carla Bruni has a new English language album out, and is using the UK and American media to try and sell it.

As usual, unchallenged publicity lines for her eccentric covers of songs by groups such as Abba and AC/DC center on Bruni's diminutive husband, Nicolas Sarkozy, or "my man" as she always calls him.

Bruni projects the one-term conservative president as a pocket dynamo, "cycling 50 miles" whenever he can, learning English ("Completely fluent at 62, unbelievable") and as a mentor who "saved me from being an alcoholic". She says that "the only politician I look up to is my man", and, with the despairing vulgarity of an ageing rock chick wannabe, boasts about how the couple have "fantastic sex".
Lucrative windfall
You can just imagine the former model cooing "Stand By Your Man" as both multi-millionaires contemplate yet another lucrative windfall based on very little effort at all.

What none of this excruciating marketing for recordings given one star out of five by The Times tells us, however, is that the real Sarkozy is an indicted criminal suspect who is currently facing trial for an array of very serious charges that could see him imprisoned.

The latest summons relates to Sarkozy allegedly attempting to bribe a judge who was examining his murky finances. Among many other scandals, Sarkozy purportedly received a fortune from the late Colonel Muammar Qaddafi.

Fittingly, the results of a six-year probe into Sarkozy's dark dealings with the murdered Libyan dictator are just about to be published as a new book by the investigative journalists Fabrice Arfi and Karl Laske. Little wonder that "Sarkozy-Qaddafi: The Secret Story" opens with a lyrical tribute to Sarkozy by Bruni in which she describes him admiringly as "a pirate".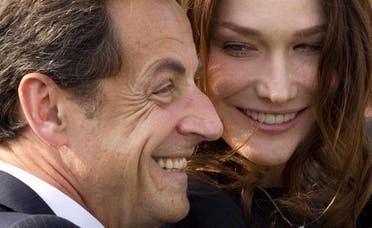 Rehearsing the mountain of evidence against Sarkozy in all the sleaze enquiries would take ages, but needless to say he is already a thoroughly discredited figure. When he lost his presidential immunity from prosecution on leaving office in 2012, an anti-corruption squad raided the Paris home he shares with Bruni within days.

Like so much in the Bruni-Sarkozy myth, this is an incident that is never discussed. Just beforehand, Bruni had described all journalists as "Pinocchios" – a euphemism for liars perfectly in keeping with the child-like, gilded fantasy world she inhabits.

Not that the police action stopped the couple continuing the kind of super-rich lifestyle to which they had become accustomed. The Carla Bruni who swanned into London on her promotional tour last week personified the abject complacency of France's elite, and especially those caught up in graft allegations.

Rather than the third wife of a criminal defendant, Bruni was welcomed in the UK as a sassy grande dame. She reveled in the chance to capitalize on the Sarkozy name as a PR tool at every opportunity, all the while not uttering a single word about judicial antecedents, let alone on-going court process.
The Sarkozy package
Bruni was a huge part of the Sarkozy package when he was in power, adding manicured legitimacy to his demonization of vast sections of French society, not least of all ethnic minorities and immigrants. As he tried to win over far-Right Front National voters, Sarkozy strengthened his reputation as an unflinching reactionary, calling for stiffer sentences for lawbreakers, no matter what their social problems.

Now that Sarkozy is himself preparing to enter the dock, surely close inspection is appropriate. Those claiming to be interested in Bruni's contrived ditties could at least ask a few questions.

If the image-obsessed wife of an indicted British politician started exploiting her private life to plug a flimsy showbiz product while legal proceedings were active there would be non-stop interrogations. But because Bruni comes from France – a country where deference and hypocrisy abound – then there is only fawning.

This is what allowed Sarkozy's immediate predecessor, Jacques Chirac, to stay in office for 12 years while fraud accusations hung over him. When he stepped down, he was finally given a token two-year suspended jail sentence, but remains extremely popular among the French.

Millions of Gaullist conservative voters also backed François Fillon, another Sarkozy crony, to become President this year, despite him being charged with a range of offences alongside his British-born wife, Penelope Fillon.

The couple were said to have helped themselves to a taxpayer-funded salary by pretending Penelope Fillon was a parliamentary assistant – even though the pair admitted in recorded video interviews that she had been nothing of the sort. Astonishingly, they are both pictured in the latest Paris Match smiling from the front seats of a £300,000 Aston Martin DB Mark III lent to them to take part in a rally last weekend.

Like the Fillons – who await judgment in relation to "Penelopegate" – Sarkozy and his wife deny any wrongdoing. Beyond this, Sarkozy and Bruni feel perfectly entitled to dish out advice still, not least of all about the current president and Première Dame, Emmanuel and Brigitte Macron. In a self-serving feature in the New York Times, Bruni gushed: "They invited us for dinner at the Élysée Palace, and it was nice. They are very nice people".

Maybe so, but it is Macron who actually wants to get rid of this sort of institutionalized backscratching. His lofty mission is to "moralize public life", targeting those who view connections at the highest level of state as an easy way to make money. New regulations include eradicating conflicts of interest through forensic vetting, and banning family members from taking advantage of politicians' privileged positions.

What is certain is that Macron will have his work cut out to implement the new laws. France is also the country where, in December 2016, the former Sarkozy lieutenant Christine Lagarde was found guilty of authorizing an irregular €400m government payout to the tycoon Bernard Tapie. Despite a conviction for unlawful negligence, she was not handed a fine or prison time, and carried on as the head of the International Monetary Fund.

For the Sarkozy clique, almost anything is still possible. It is unsurprising, then, that the title of Bruni's new album is "French Touch" – two words that neatly sum up the magical way members of the Paris establishment keep building up substantial personal wealth, with next to no effective scrutiny whatsoever.
__________
Disclaimer: The views and opinions expressed in this article are those of the authors and do not reflect the viewpoint of Al Arabiya English.