Four former students of Tariq Ramadan -three of whom have claimed to have slept with him when he was married - have come forward with new information regarding the renowned Islamist intellectual figure.
The details were included within a new shocking article which has been recently published about the period of time when Tariq Ramadan was teaching in Switzerland during his youth.

Familiar face
Apparently and according to witnesses, Tariq Ramadan has been abusing women for a long time, way before the recent rape cases in France and before he became the famous controversial Islamologist.
The 55-year-old Ramadan has taught for several years in his hometown Geneva, where he had nothing but good memories.
But the newspaper The Tribune de Genève has now discovered that he unsuccessfully tried to seduce one of his 14-year-old students.
The investigation states that he even got his way with three others, aged between 15 and 18 years.
These incidents go back to the 80s and 90s, when the professor of French and Philosophy worked at the Cycle of Coudriers and then at the College de Saussure, according to the newspaper.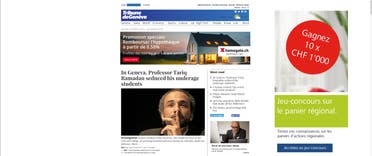 Women agree to testify
The writer added "four Swiss women, whom we have been able to find during our investigation, have agreed to testify as a way to support the victims who have spoken out about the abuses and wrongdoing of this man. These Geneva based non-Muslim women are all active in the civil service. They have families and are afraid to speak openly. They describe the psychological influence exercised on them by their brilliant teacher.
Tariq Ramadan's actions have also been denounced by Stéphane Lathion, a former close associate of his.
In Paris, after the recent social media revelations about sexual abuses and harassments by Ramadan, he has been accused of rape and sexual assault. French prosecutors have opened an investigation into those accusations, especially as more women have come forward with detailed descriptions of their encounters with him.
Denial
Following the first complaint, Ramadan had denied theaccusations and said that he will sue for "slanderous allegations".
In a Facebook post he shared with the public, Ramadan wrote that he is "a victim of a campaign of slander clearly orchestrated by my long-time adversaries".
He completely denied the allegations made against him and said that he will remain "calm and determined" until the long and bitter struggle is over.
Ramadan is a Swiss-born Muslim scholar who teaches contemporary Islamic studies at Oxford University and who is a familiar face on television news programs, speaking about Islam and the Western world.
He is the grandson of the founder of the Muslim Brotherhood, a fact that has made him a controversial name in media and Islamic studies.