Islamist party activists on Sunday clashed with Pakistani security forces for a second day outside the capital, Islamabad, burning vehicles before withdrawing into an uneasy stand-off at a protest camp they have occupied for two weeks, police said.
According to media reports at least six people were killed on the previous day, when several thousand police and paramilitary forces tried to disperse the religious hardliners, who have blocked the main route into the capital.
The protesters' main demand is the resignation of Pakistan's Law Minister Zahid Hamid on allegations that he committed blasphemy.
Hamid's residence in Sialkot was attacked by supporters of Tehreek-i-Labaik and other religious parties on Saturday, with several images shared by local media outlets showing him bandaged at the head.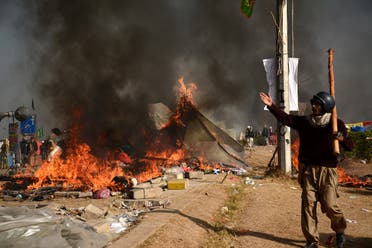 On Sunday, Hamid released a video message on social media to protesters that he "believes in the finality of Prophet Muhammad (PBUH)". In the video, Hamid read out the oath that election candidates must take under the Constitution.
Why are protesters angry?
Islamist protesters across several cities in Pakistan first began occupying streets in the capital Islamabad after they believed an oath affirming a politician's belief in the finality of prophethood (known in the country as the Khatm-i-Nabuwwat) was modified during the passage of the Elections Act, 2017.
Under the amended oath, the words 'I solemnly swear' had been replaced with 'I declare' in a clause relating to a candidate's belief in the finality of the prophethood and it had been made not applicable to non-Muslim candidates.
The amendment was judged to be a 'clerical error' by Pakistan's government and was already rectified through parliament. However, protesters are persistent on Hamid's resignation as law minister for his supposed role in the controversy, which he has said he denies any involvement in.
What kind of country is Pakistan where the Federal Law Minister Zahid Hamid in dreadful stress issues a message that he is a devout Muslim?
He would be lynched to death if home today.
What kind of message we are delivering to the world that even ministers are not safe? pic.twitter.com/n3ALY0260l

— Shama Junejo (@ShamaJunejo) November 25, 2017
"This is the oath that is part of the law. And you all know that Constitution of Pakistan declares Qadianis, Ahmadi Group and Lahori Group as non-Muslims," Hamid said in a video released on Sunday.
But for the hundreds of protesters, the change was seen as a wider softening of the state's position against the Ahmadi minority group. Ahmadis have been widely persecuted in Pakistan and were officially declared non-Muslim in 1974 for their belief in Mirza Ghulam Ahmad, a 19th-century Indian religious leader who founded their movement.
The protesters are being led by cleric Khadim Hussain Rizvi who founded Tehreek-e-Labaik, one of two new ultra-religious political movements that became prominent in recent months. Labaik, which campaigns on defending Pakistan's strict blasphemy laws, won a surprisingly strong 6 percent and 7.6 percent of the vote in two recent by-elections.
What to expect next?
Political leaders of parties other than the ruling Pakistan Muslim League (PML-N) party say the government has bungled its response to the protests, allowing a minor issue to be magnified.
Fawad Chaudhry, a spokesperson for the Pakistan Tehreek-e-Insaaf (PTI) party, told Al Arabiya English that he does not see the current standoff fading anytime soon as it is "not an issue of one man resigning".
"The issue is basically about political authority. The government has lost total control over the country. One or two ministers resigning will further erode their own political will. They will bring Pakistan further into chaos," Chaudhry said.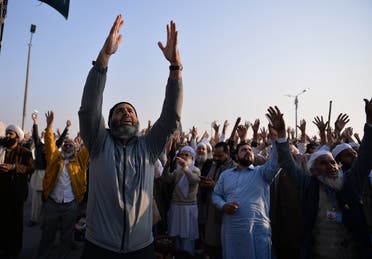 Chaudhry's belief that the Pakistani government has lost control became evident on Sunday after they ordered the Pakistani army on Saturday night to help restore order but no troops were seen in the capital near or around the protest camp in Faizabad.
"The only solution is Pakistan goes to elections sooner than August 2018," Chaudhry suggested.
The current government in Pakistan believes they will be able to peacefully negotiate with the protesters but insist, at the same time, that a conspiracy is taking place in the country.
"There are attempts to create chaos in (the) country," Minister of Interior Ahsan Iqbal said on state-run Pakistan TV.
"They are not your average citizens. We can see that they have various resources at their disposal. They have fired tear gas shells [at security forces], they also cut the fibre optic cables of cameras that were monitoring their protest," he told Pakistani media outlet Dawn News.