Abu Hamza al-Belgiki (the Belgian) who carried out attacks in Paris in November 2015 started off as a thief and was later recruited for ISIS by a Tunisian drug dealer after they met in prison in the Belgian city of Liège.

Abu Hamza, or Tarek Jadaoun, is a Belgian citizen who's originally from Morocco. Iraqi army forces arrested him while liberating the right coast of Mosul. In his confessions exclusively on Al Arabiya, the captured ISIS militant speaks about the extremist group he joined, jihad against the infidels and the importance of immigrating to Syria and Iraq to participate in supporting the organization and religion.
"After serving time in prison for one year, I met with a group of men who was with me in jail. After we took classes to learn the provisions of religion and jihad, we decided to head to Syria to join the organization and participate in the fighting. This was in 2014," he said.

According to what Tarek al-Belgiki told the judge in charge of terror cases, he was not the only man whom Rashid al-Tounsi convinced to join ISIS. A correspondent from the Media Center of the Supreme Judicial Council attended the interrogation of Tarek and Al-Arab Al-Yawm received a copy of the interrogation and according to them, Tarek said Tounsi met with inmates in prisons to convince them to join "jihad and ISIS" in Iraq and Syria.
"We were four and we decided to travel to Syria. There was me, Radwan al-Hajawi, Fouad bin Jiddo and Lutfi Umar. We were all Belgians with Moroccan origins except for Lutfi who was originally Algerian. Radwan and Lutfi traveled before me and Fouad and they communicated with us to figure out how to get there. They told us that all we have to do is arrive to Turkey and someone will take us to Syria from there," Tarek said.

"Fouad and I left Brussels from South Charleroi Airport. We booked to Romania and then flew to Turkey from there. We went from Istanbul to Ankara and then to the city of Urfa near the borders with Syria. We consulted all our movements with Radwan who gave us the contact number of a man named Ibrahim al-Shishani. The latter handled transferring us to Syria," he said.

"After spending a day in a hotel in Urfa, Shishani transferred us to a group of Syrians who took us on foot to Syria. A group received us there, and we stayed there for an hour. They then transferred us and others by buses to another group and then we were transferred to a camp in the Syrian city of Ar-Raqqah. We spent two weeks there and we learnt some religious provisions and how to use several weapons. By the end of these two weeks, they asked us to pledge allegiance to Abu Bakr al-Baghdadi, and this is what we did. We then moved to another camp in al-Tabqah to resume military training by Abu Qasura al-Souri who gave me the name Abu Hamza al-Belgiki. We also spent two weeks in this camp," he added.
Return to Raqqa
After finishing training, "they returned us to Ar-Raqqah and Abu Qasura told us we were soldiers for the Islamic State in Ar-Raqqah to fight infidels. I was given $100 a month and my duty was to be stationed on the Syrian-Turkish borders."

"When battles erupted in Kobani, I was sent with a group to support the organization against Kurdish forces. I only owned a machinegun and I stayed for two days in Kobani. Then we were return to Ar-Raqqah. After returning from Kobani, I started contacting my Belgian friends and we agreed to go together to Homs to join the Caliphate Army since it's the highest faction in ISIS and the man in charge of it is the minister of war in the organization. We submitted an application to join it, and we got accepted," he said.

"After our defeat in Kobani, which we returned to, I was asked to return to Ar-Raqqah to supervise the training of more than 60 of the organization's 'lions cubs' and whose ages range between 8 and 13. Training includes fitness and teaching them on the use of light weapons. Most children were the sons of Syrian people and immigrants. In mid-2015, we were asked to go to Mosul and we went there via Al-Ba'aj crossing border and then to Tal Afar. We then went to Saladin governorate and formed a group called Abu Ali al-Shishani which was exclusively for immigrants and it was headed by Moataz al-Quriashi," he added.

"My foot and shoulder got injured while I was in Al-Hararyat, and I was transferred to the Hawija hospital and then to Nineveh's hospital. After I was treated, and since Iraqi forces had liberated most of Saladin, they transferred us to Anbar," he said.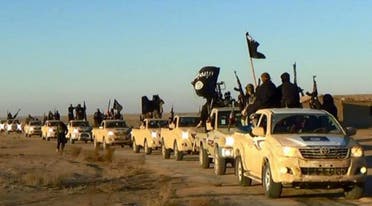 "Our group of Abu Moataz al-Quraishi mainly stayed in Hit after Ramadi battles. When Iraqi forces advanced and liberated it, we had to return to Mosul to form resistance lines in Qayyarah in South Nineveh. The Iraqi forces' advancement in Nineveh forced us to go backwards as they imposed their control on the city's neighborhoods. We were then besieged on the western side, or what's known as the right side."

"When Iraqi forces arrived to the right side of Mosul, our group's opinions split. I and my Belgian friends decided to escape but a man who is known as the legal judge refused to withdraw and threatened to punish us. He asked us to be suicidal and fight until we're martyred. Some were convinced and others escaped towards the river and then to Badosh and Tal Afar. When the shelling intensified, we split and I hid in a house in Al-Meidan until I was completely besieged by the Iraqi counter-terrorism forces and I was arrested on July 13, 2017."

Abu Hamza al-Belgiki's role was not limited to fighting but he was also responsible for cells in Europe and called for carrying out terrorist operations in Europe and America and called on Muslim foreigners to go to Syria and Iraq.

"I recorded videos from Mosul and called on mujahideen in Europe, especially in France and Belgium, to carry out suicide bombings," Tarek added.

Al-Belgiki is considered one of the most prominent European terrorists as European intelligence apparatuses have been tracking him. The Belgian and French governments published several reports saying he was killed or he returned to Europe. This made French authorities publish his photo and request help to arrest him. An employee at a French train station told authorities that he saw someone who fits the description board a bus. As a result, French police evacuated a metro station in North Paris on May 30, 2017.