Ahed Tamimi's father: 'My daughter stands up against unjust Israeli occupation'
An Israeli court decided on Monday to extend the detention of a young Palestinian woman and her female relatives for another four days.
Ahed Tamimi, 17, was filmed approaching two Israeli soldiers last week before shoving, kicking and slapping them.
Nariman Tamimi, 43, and Nour Naji Tamimi, 21, were also detained in a case that has set Israeli and Palestinian social media alight.
The video, filmed in the village of Nabi Saleh in the occupied West Bank, shows Nour and her cousin Ahed Tamimi, 17, approaching two Israeli soldiers before shoving, kicking and slapping them while filming on mobile phones.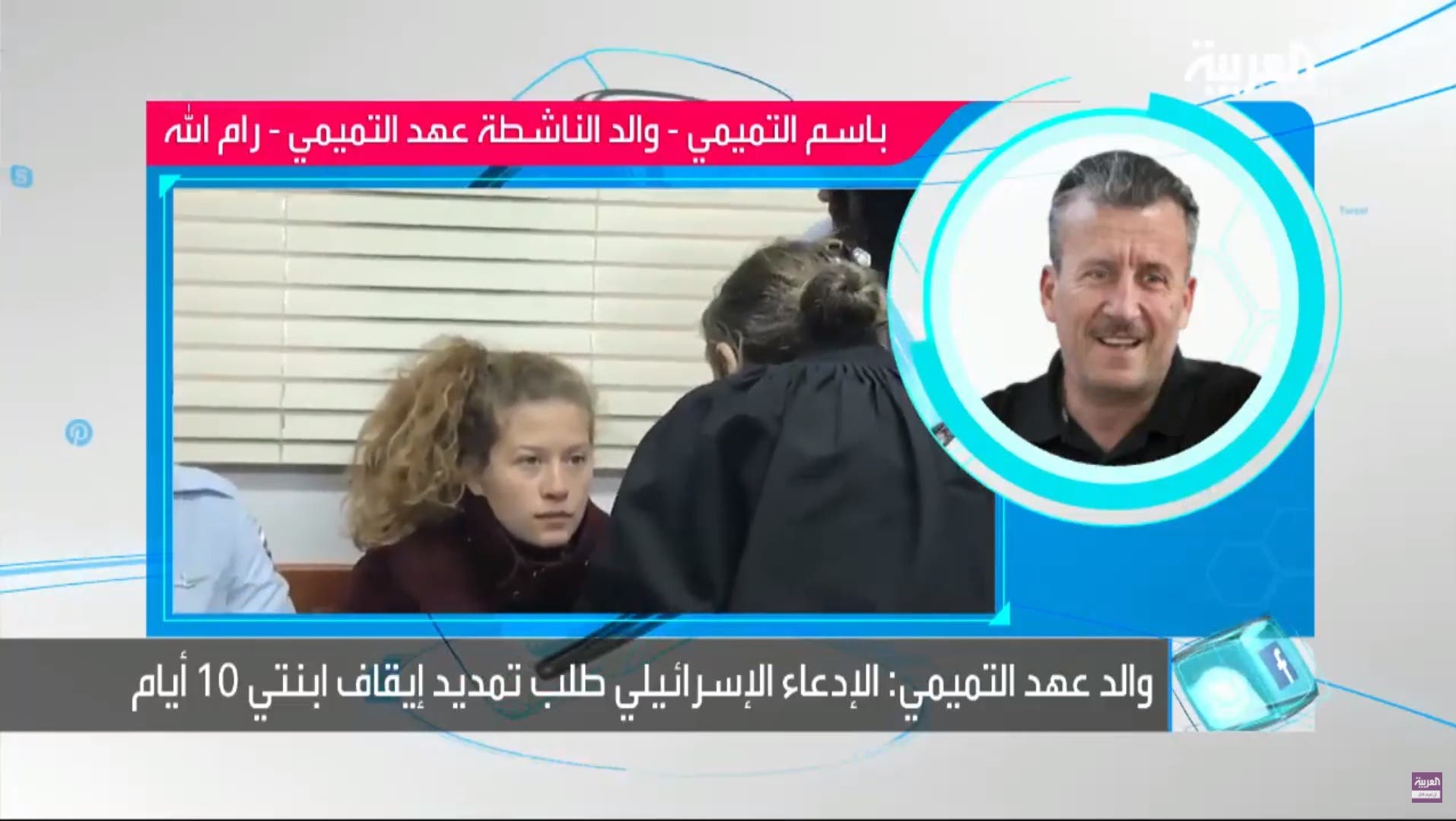 Speaking to Al Arabiya News Channel on Monday, Ahed's father Bassem said that the conditions his wife and daughter are being kept in are harsh, especially during the winter season currently gripping the region.
"When I saw her in court yesterday and over the weekend, I felt that she was cold because of the conditions she is being placed in and her feelings steeped into my bones," Bassem told Al Arabiya.
"But Ahed stands for a cause and will do everything she can to stand up to the unjust occupation of her land. Of course, it saddens me that she is in jail as she is my daughter at the end of the day," he said.
"At the end of the day, we have to ask the questions if there is a safe place for us in Palestine today, this is what our children are going through. Any parent would like to hear their children say they want to aspire to be lawyers or follow their passions like football. But in the face on an unjust occupation, we have no choice but to raise strong-willed children who will stand up to the occupiers," he added.
Several high-profile lawyers from Egypt and across the world have offered their services to represent the women at the center of a case that has gripped Palestine in recent weeks, especially after US President Donald Trump's recongnition of Jerusalem as Israel's capital.
Ahed's father said they appreciated all the high-profile offers from lawyers across the Arab world "who have jumped at the opportunity to represent my daughter Ahed in her case, but more importantly, we want the Arab world's union of lawyers to ask themselves how they can put into action a system where every Palestinian can have access to quality lawyers who can defend them in the face of the Israeli occupiers," he added.