The twitter account of KSA Old Photos shared via social media networks on Wednesday a rare video and photos of the "kiswa" (Kaaba cover) factory.
The photos show details of starting up the factory of the "Kaaba Kiswa" by order of king Abdulaziz Al Saud and how the first cover was made in Mecca.
The account mentioned that King Abdulaziz ordered the establishment of the factory to produce the cover of the Kaaba in 1926, and brought to it the most brilliant technicians adding that the cover of the Kaaba was first made in Mecca.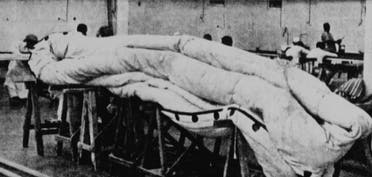 The photos shared were captioned: "First Saudi-made cover for the Kaaba was completed in Mecca by the order of King Abdul Aziz after more than a thousand years, and the materials were sent from outside the Arabian Peninsula along with the alms.
Sometimes the manner of transferring kesswa did not suit the sanctity of the place, and if this or that Sultan got angry, it became forbidden to send the cover to the Holy sites," it said.