Brussels, Belgium - "Even if you have no skills or specific capacities you can help. It makes me sad to see people inactive. It comes down to very little. It is within everyone's reach," said Nabil Moujahid, a Belgian volunteer helping migrants and asylum seekers in Brussels.
For over a year now, hundreds of migrants and asylum seekers from Sudan, Ethiopia and Eritrea gather every day in the neighborhood of Brussels North Station. In the center of the capital of the EU, Belgian volunteers provide the migrants with food and clothes. Some volunteers organized themselves in a network in order to host the migrants at their place to protect them from the Belgian police.
Nabil, a 31-year-old French teacher of Moroccan origin, has dedicated his life to migrants for more than two and a half years. He created a collective called 'Citoyens Solidaires' (Solidary Citizens) which aims to coordinate and link different initiatives and organizations focused on migrant welfare.
But the urgency of the migrant crisis in Brussels has forced Nabil to stop is work as a teacher since June 2017 and has since then been devoting his time to volunteer and help migrants.
"At first when I was still working, I was coming here to distribute meals everyday directly after work. Every night I had to take a migrant to the hospital, find clothes or a house for others. It was very hard for me to combine my activities. That's why I stopped working for a moment," Nabil told Al Arabiya English.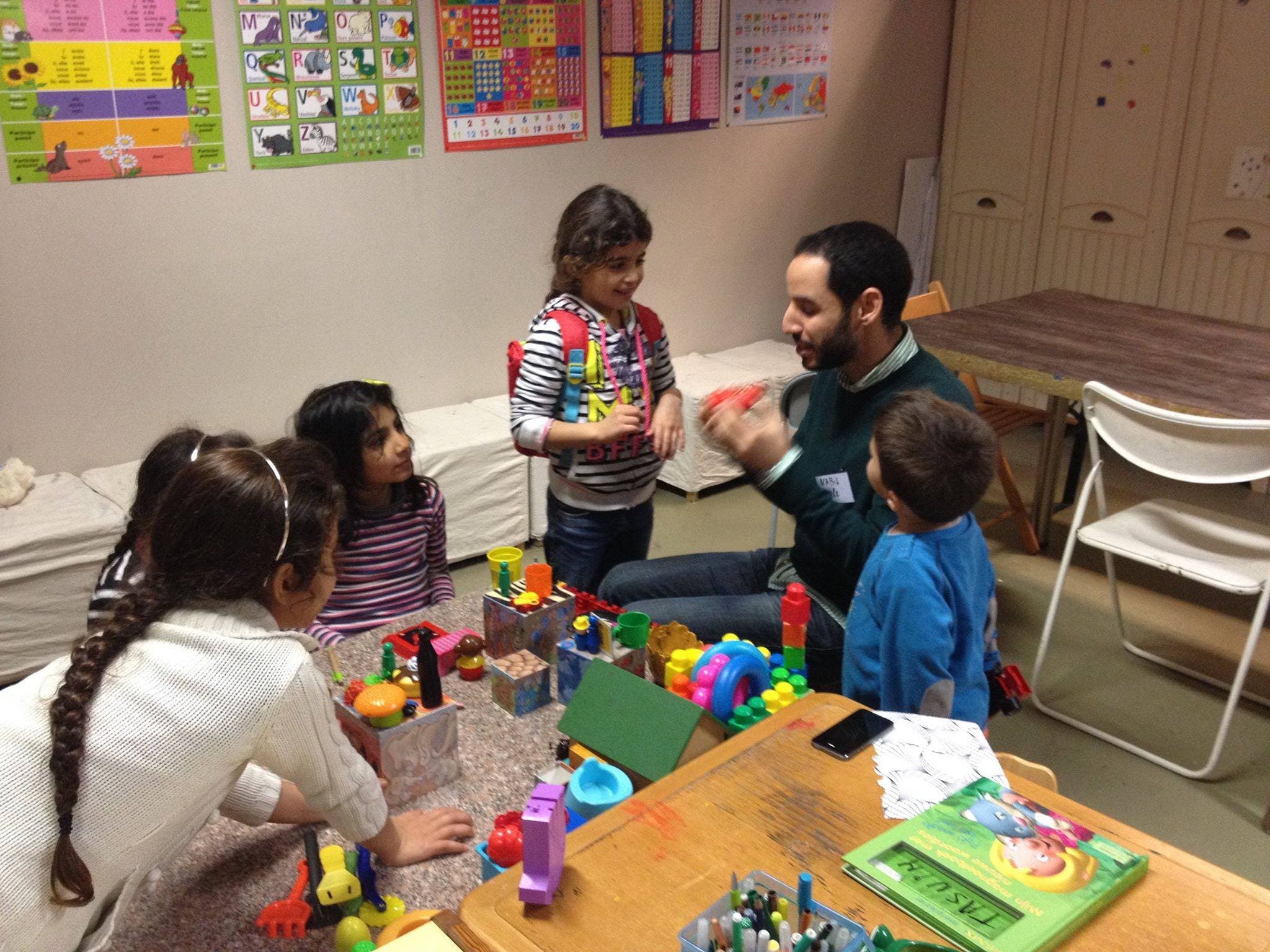 Nabil spoke as exhaustion overwhelmed him but he insists that he knows that if he does not continue his work with migrants, then who else would do so. His conviction, he says, gives him the strength to continue his volunteer work.
Organizing volunteer work
All the migrants at the North Station neighborhood know Nabil and no other volunteer has developed such a personal relation with the migrants. "I know most of them. I spent so many hours with them," he said adding that "some of them knew me even before arriving in Brussels".
"I had to learn Amharic and Tigrinya, the languages spoken in Ethiopia, Eritrea and Sudan because very few of the migrants speak English. This helps me because they appreciate my efforts and it makes our relation even better," he said. "When you want to help someone, the first thing to do is to be interested in the person you want to help and not to impose or dictate their behavior".
"This relation is a good point because the migrants know that if they need a doctor, a lawyer or a jacket they can come to me and ask me whatever they want," he stressed.
Everyday Nabil and other volunteers distribute between 300 and 350 meals to migrants and homeless people in the North Station donated from families, caterers and bakeries. "We have developed a huge network. We communicate with our entourage and contacts via social networks and phones calls to coordinate the donations," he told Al Arabiya English.
Recently, Nabil's collective managed to get the free use of a huge hangar located in the same neighborhood where the migrants gather every day. There, donated food and clothes are stocked and given out.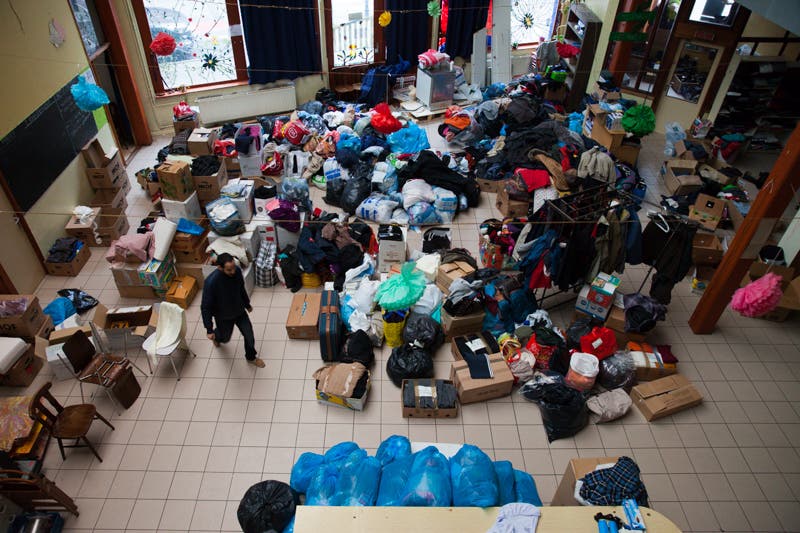 "All the migrants know the hangar. They know they can come all day long to take some clothes, food or basic medicines. It's more respectful to distribute the food and clothes here than in the station or the park," said Nabil. "This hangar is also important because all the people who have something to donate know that they can give it here. It is important to have this place to coordinate the donations," he added.
Nabil developed strong links with churches in Brussels. These churches helped him to accommodate and provide food to migrants and homeless people since 2015.
The work of the volunteers with the migrants is not easy in the streets of Brussels.
Facing police brutality
Last summer, Belgian police forces started to conduct a series of arrests, including targeting sleeping migrants in the Maximilian Park located in front of Brussels' North Station.
During those several weeks, police forces violently arrested migrants and brought many of them to closed centers, provoking a wave of contest in the country against the arbitrary practices. Following these arrests, Belgian citizens organized themselves in networks to house the migrants at their own places in order to protect them from the police raids.
"At the beginning, the relationship we had with the police was good. They knew us and we knew them, they let us do our job. But after, with the police raids in the Maximilian Park the situation worsened," Nabil said.
"The tension was high. It started in July-August 2017. Sometimes the arrests were every Monday morning in the park. We were used to it. So we came with other volunteers to wake up the migrants sleeping in the Park to protect them from the police arrests," he recalled.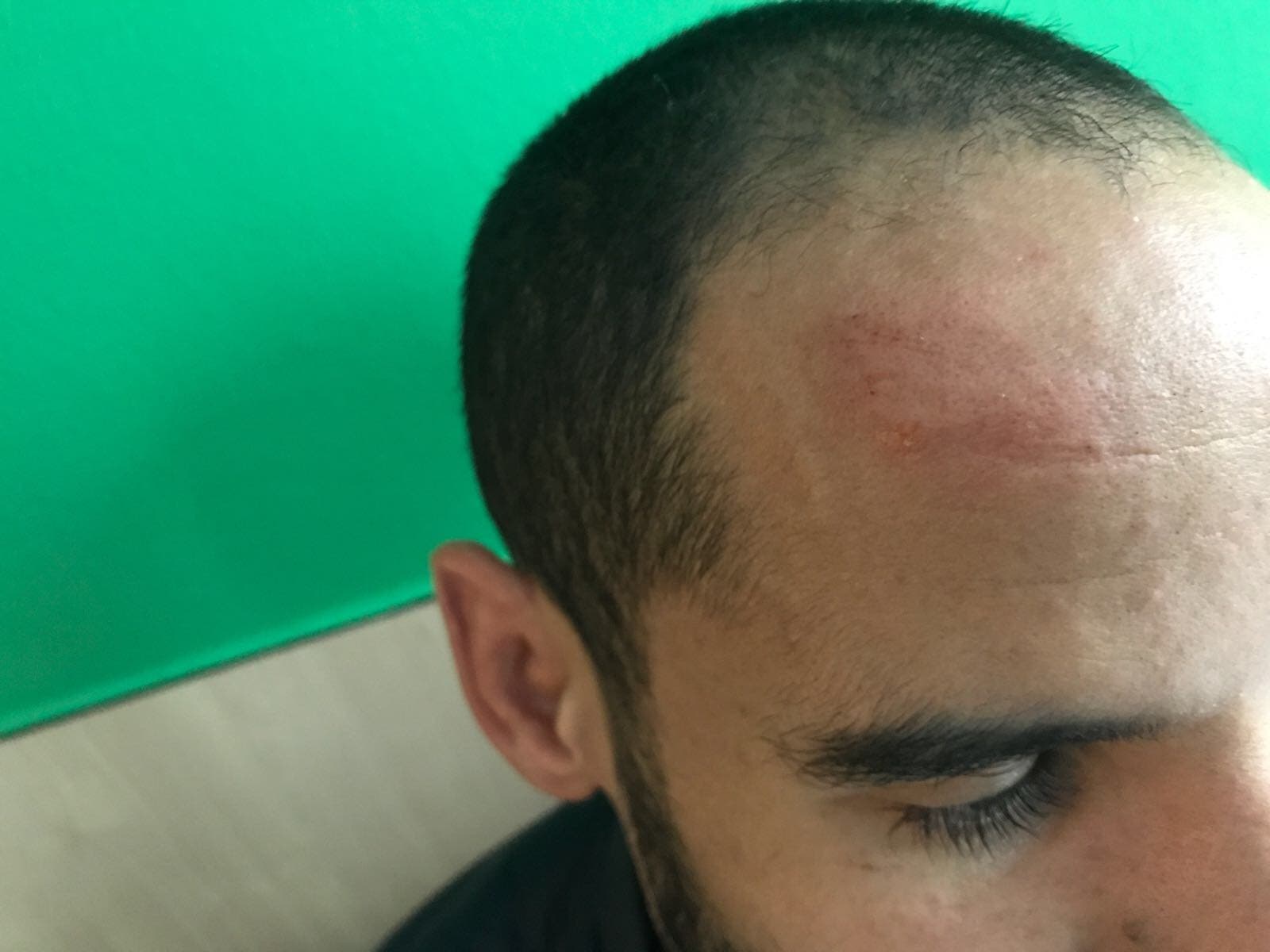 Nabil was also a victim of police brutality at one point. "For me it happened twice. The first time the police was arresting a young migrant. He was putting his shoes on, but the police didn't let him. I approached them with my phone wanting to record them. I asked them to let him at least put his shoes on. They were very aggressive towards the young migrant," Nabil said.
At that moment, a police officer approached Nabil asking for his phone and he refused. "He tore it from my hands. He pushed me against the police truck. He deleted pictures and videos from my phone and pushed me away," he recalled the incident.
Four days later the same incident happened to Nabil while he was distributing food to migrants in the Maximilian Park. "I was speaking to two minor migrants. Out of nowhere the police came and took the two kids. One was 15-year-old and the other 16. The police handcuffed them. Was it needed? I followed them. In the same time, I was recording with the camera directed to my feet in order to avoid any problem. At that moment a police officer ran in my direction, tried to take my phone. I asked him to stop. Then he pushed me and hit me. He threw me on the ground, I tried to get up and he gave me a knee kick to the head. He hit me also in the stomach," Nabil said.
Following these two brushes with the local police, Nabil submitted a complaint with his lawyer. The case is now in under examination.
'It takes nothing to help'
Besides the police violence, Nabil faced other problems. Two migrants he helped with his collective died these last months. The first tried to embark on a bus going to Calais with the hope of reaching England. He felt and the bus ran over him while going back. Omar, 17, died in hospital.
The second case was even more tragic for Nabil. A young Sudanese was found dead in the Canal of Brussels. Until now the causes of his death remain unknown. "That was the worst thing I had to experience since I am helping the migrants," he said. "I had to identify the body with the police. With my collective we entered in contact with his family in Sudan. We organized the funerals and we collected money to pay it. I had to call his father. Until now he doesn't believe me," he sadly remembered.
Nabil says he dislikes answering questions of why he helps migrants and what motivates him.
"I don't a have a specific reason. I am a believer but this isn't the reason why I am doing this," he said. "For me it's normal. Everyone can help just by sharing. I know that not everyone can distribute food and clothes all day long, going to collect donations, but it takes almost nothing to help the migrants" he added. "I know that people have families, work, I don't think I would be able to do what I am doing if I was married or a father," he said.