Rape-accused Tariq Ramadan's flight itinerary surfaces, contradicting his alibi
Organizers of a 2009 conference in Lyon, which has become an important sticking point in the rape charges against Swiss Islamic scholar Tariq Ramadan, have published evidence that could be damaging to his defense.
A woman using the pseudonym Christelle has claimed that Ramadan had sexually assaulted her in a French hotel room while Ramadan was in Lyon to speak at the conference.
Christelle reportedly told investigators that the attack happened "in the afternoon" of October 9, 2009, adding that "it was still daylight."
Attempting to punch holes in her statement, Ramadan's defense team claimed that he did not land at the Lyon-Saint Exupéry airport on October 9 until 6:35 pm, reaching the Hilton hotel at around 7:30 pm.
Organizers of the conference, which was titled "Living together, Islamophobia and Palestine," have published Ramadan's itinerary, which showed that the rape-accused scholar actually arrived at 11:15 am.
The itinerary was sent to Ramadan by the conference organizers - Union Des Jeunes Musulmans (Union of Young Muslims) - after he was invited on September 15, 2009. Initially, Ramadan's office had requested that the scholar be on the London to Lyon flight that did in fact land at 6:35pm. But his office then sent a second email, according to Le Muslim Post, which requested that Ramadan be on the Madrid to Lyon flight that arrived at 11.15 am.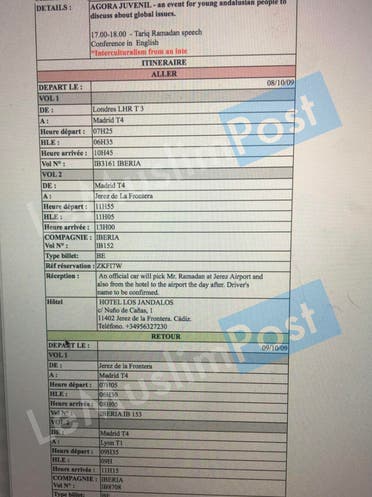 According to the schedule, published by Le Muslim Post, Ramadan was then due to speak at the conference at 5 pm, but he was reported as arriving late – at around 9 pm.
If the published itinerary is accurate, it theoretically allows for several unaccounted hours in his defense's timeline.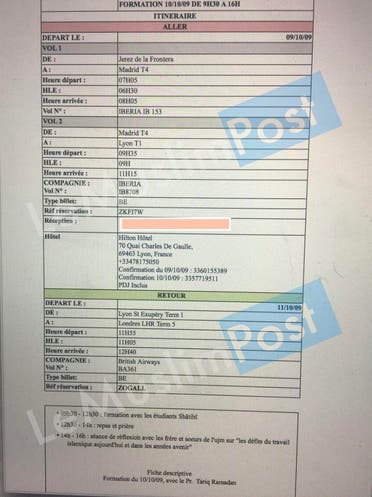 Ramadan has denied raping or having sexual intercourse with Christelle, who is reported to have disability in her legs.
Vanity Fair magazine, which met the woman, said her lawsuit against Ramadan described "blows to the face and body, forced sodomy, rape with an object and various humiliations, including being dragged by the hair to the bathtub and urinated on."
She also revealed that Ramadan had a small scar on his groin that would not have been noticed except in the case of close contact.
Christelle said that she received many SMS messages from Ramadan's number, including a crucial one on October 10 at 19:29 - the day after the alleged assault – reportedly saying "sorry" for the violence, and also asking: "Do you want more? Not disappointed?"
Ramadan is currently being held in a French prison since February 2 on charges that he raped Christelle and another woman in Paris.
He has been imprisoned at the Fleury-Mérogis prison, south of Paris, as authorities investigate the charges. He could be held in long-term custody while the probe continues.
The Swiss academic, who is a grandson of Muslim Brotherhood founder Hasan al-Banna, found fame after writing numerous books on Islam and the integration of Muslims in Europe.