Five Saudi doctors who specialize in eye surgery performed 515 operations within seven days as part of a Saudi medical convoy in Nigeria in cooperation with the World Assembly of Muslim Youth.
One of the surgical operations performed by the team imvolved removing the Cataract for blind people of all ages, who have been blind for years because of poor resources and lack of doctors in many parts of Nigeria.
Dr. Said al-Wedaani, an Ophthalmologist consultant at the university hospitals, an assistant professor at King Saud University's Faculty of Medicine, and who is also a member of the team, said that Saudi Arabia has been a source of assistance, a humanitarian kingdom and a main pillar for the relief convoys heading to various Islamic world countries.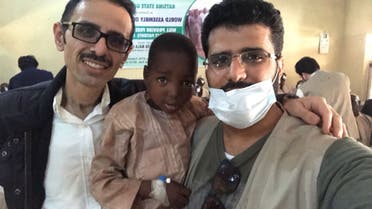 Doctors Samir al-Mansouri, Ra'id al-'Umair, Saeed al-Qahtani and Omar al-Abbasi, also participated in the medical convoy.
The five doctors prepared and examined the patients daily, from 7 am to 8 pm, checked on the patients on the second day to ensure the success of the operation and gave the patients instructions and provided free treatments and medicines.
Wedaani said that the convoy was medically equipped and intended to conduct over 400 operations.
However, their enthusiasm, being affected with the situation in the region and seeing the positive impact they had on the Muslim communities in Nigeria pushed them to exceed the expected operations to reach 515 despite the difficult working conditions, poor resources, lack of electricity, tools and experience of assistants, and the difficulty of the medical cases themselves.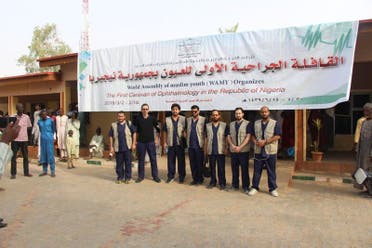 He said that the mission started on Feb. 20 and would continue till March 2 in Katsina, Nigeria.
It is being organized by the Medical Committee at the World Assembly of Muslim Youth.
The convoy attracted the attention of the local press who thanked the Saudi doctors for their efforts.
Social media followers commended the efforts of the convoy in Nigeria and requested them to visit other cities in dire need of these operations both inside Saudi Arabia and abroad.