Exciting details about Al Gosaibi's book soon to be introduced to Saudi students
The Saudi Ministry of Education has decided to include Dr. Ghazi Al Gosaibi's book "A Life in Management" starting next year as part of the curriculum designed for administrative skills taught to secondary stage students.
The Minister of Education Dr. Ahmed bin Mohammed al-Issa announced on Monday that the book was approved for high school students to teach them management skills.
The aim of the decision is to acquaint students with one of the most important books dealing with the "art of management", through the author's real life and his keenness in his career to embody the attachment to his country, Saudi Arabia.
In addition to the fact that the late Al Gosaibi was a pioneer in his field and a master of his own style.
Personal autobiography
"A Life in Management" is a personal account of Ghazi Al Gosaibi's early stages of education until he was appointed as Saudi ambassador to Bahrain in 1984.
It is written in his distinctive literary style, to reflect on his manner of management in every position he held, as a minister and a diplomat, up till his last post before he passed away as the kingdom's minister of labor.
"A Life in Management" addresses the different situations and obstacles that faced Al Gosaibi, in a form that is full of wisdom and wit at the same time.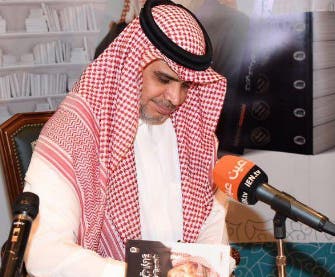 Out of these experiences, he drew instructions and words of advice to the administrators in general and to the modern ones in the field of management in particular.
In his book, he talks about his life in Bahrain at the elementary school, then in Cairo, where he studied at the university stage, and where he attended the Faculty of Law, his first bureaucratic encounter, and then his experience with administrative corruption.
The stories continue till he headed the Arab Students' Association in America and his return to Saudi Arabia after receiving his doctorate.
"I believed that soft power unquestionably leads to danger, and that ruthlessness unquestionably leads to even more dangerous tyranny," he said.
Al Gosaibi said: "The management approach, which is not based on scientific knowledge and is acceptable to the employees, does not mature or succeed, and if it works, it will remain abhorrent and heavy on them and they will enjoy evading it."
"You cannot make others do what you want them to do, and not do what you don't want them to do except through these motivations: love, respect, desire, reward, fear and punishment."
In his extended biography, Al Gosaibi didn't forget to write about the most important task for each successful administrator, which is to manage time and punctuality.
"I tried to serve the citizens with all my energy, I served the sons of this generation, but the next generations whom I will not have the privilege of seeing, I can offer them nothing but my story accompanied by much love and many prayers," he added.
The first edition of this book was published by the Arabic Institute for Studies and Publishing in Beirut in 1998.
It was published in 1998 in more than 300 pages of the medium pieces. Today, it is one of the most famous and widely circulated Arabic administrative books, exceeding fifteen editions.