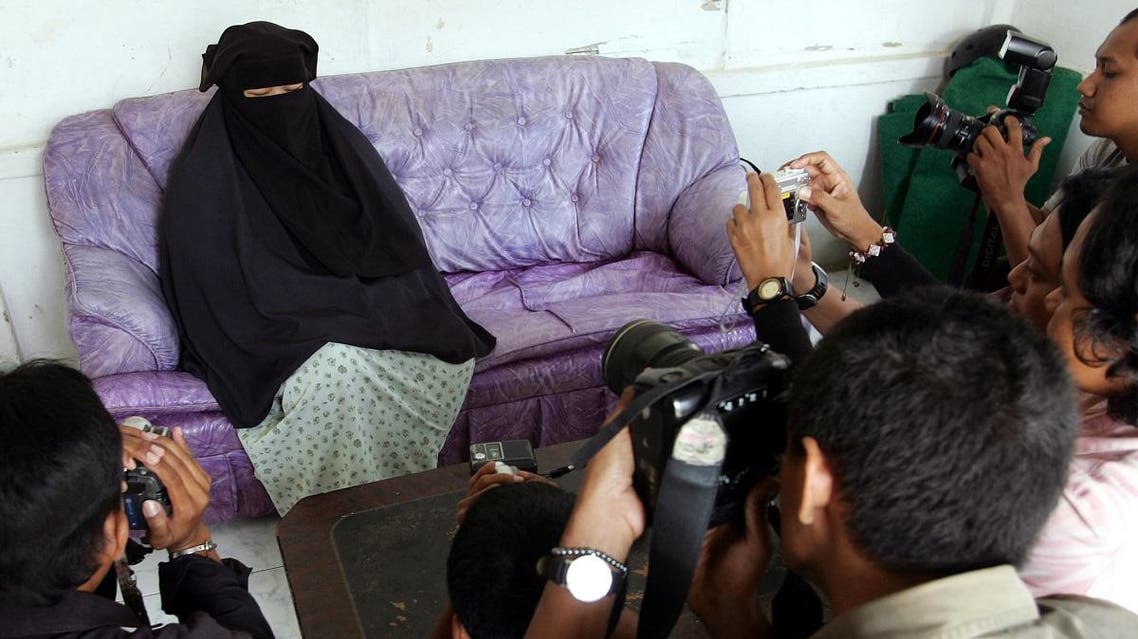 Abbottabad files shed light on how al-Qaeda set marriage rules for militants
Following the killing of al-Qaeda leader Osama bin Laden, the United States uncovered the Abbottabad documents disclosing the rituals and customs of marriage and interesting stories about the women of the extremist group.
Al-Arabiya.net acquired exclusive information that is published for the first time on one of the strangest stories ever to come out of the Abbottabad files. The details of the story go back to a Saudi woman named S.B. who insisted on divorcing her husband, also a Saudi national, after giving birth to three children in exchange for a financial compensation to marry an al-Qaeda member, the man who released him named A.J., later influenced her ideologically and planned to travel to Afghanistan. But she also asked for a divorce after discovering he was cheating on her.
After the dispute broke out between the two, her husband decided to appoint a mediator, an Afghani man belong to the extremist current called Tabib Jidrani who was blind and had an amputated leg, to help fix their marital problems, but the man in question aggravated the situation by telling the wife that her husband was still cheating on her, so she got a divorce from her second husband.
Consequently, the Afghani started communicating with her and encouraged her to travel to Afghanistan. He agreed that he would illegally smuggle her through the borders. He offered to marry her without any conditions or the consent of a guardian, so she married him. He smuggled her after moving between the regions of the Kingdom to finally hand her over to a recently freed al-Qaeda member, identified a A.S., who had been released from Guantanamo Bay. The latter travelled with her to Iran by air without the presence of a guardian using his wife's passport and from Iran, they travelled to the Pakistani tribal area of Waziristan through the smuggling routes of the Iranian-Afghan border, where she reconnected with Jidrani again.
After spending six and a half years with him, she gave birth to one child. She fled with an Afghan person whom she met named Mohammed Shamshir. The two of them travelled to many places until they were able to divorce her from her husband Jidrani after seeking a fatwa from Dar al-Iftaa in these regions. Later, she married Shamshir and after a while he was able to obtain forged documents he used to come to the Kingdom on a Hajj visa. She was intercepted upon arrival by the Saudi security authorities.
Wives' insurance
Another report reveals the latest factors complicating the arrangement of marriages for al-Qaeda militants which is due to a decline of popular sympathy, "until it turned into enmity and war on the Mujahedeen in some areas, it was then that the problem of securing families and supplying them emerged," in addition to requiring a fatwa to get women off from the slopes of the mountains and to leave the battle fronts.
In the framework of the development of a plan to manage marriages within al-Qaeda, "Mahmoud" and his real name is Attiyah Allah al-Libi, a prominent leader within the group, issued a number of proposals, calling them "solving the problem of marriage," and they are as follow: 1) Each year, a specific number of those who wish to get married is to be determined granting them a salary and wedding expenses, 2) Priority shall be given to the seniors and to those wishing to marry a widow and supporting her children. 3) When there is a tie between men in characteristics, the oldest man is the tie breaker and when the two men are the same age, it will be solved via lottery. 4) This should be entrusted to a special committee of at least two people. Later, it was It decided to ban marriage unless after receiving the permission of the Emir of the region.
The report also revealed how the extremist exploited women, al-Qaeda's founder in Saudi Arabia and one of its theoreticians (killed in a security confrontation in 2003) Yusef al-Ayeri, and Abu Muhammad al-Maqdisi, one of the most prominent extremist ideologues, considered women "to be a scornful fun tool with no worth compared to the women in after life".