The Arab Coalition fighting to support legitimacy in Yemen presented on Monday the remnants of the missiles fired at Saudi Arabia, stressing that the wreckage and debris proved the Houthis were had fired Iranian-made missiles.
Spokesman of the Arab Coalition, Col. Turki al-Maliki told a press conference of reporters in Riyadh that the missile which targeted Saudi Arabia's capital on Sunday night was specifically an Iranian-made Qiam missile.
He also presented a number of missiles that were smuggled from Iran to Yemen, adding that they were seized before they made their way to the hands of Houthi militias. Among the missiles seized was of the Sayyad (Hunter) make.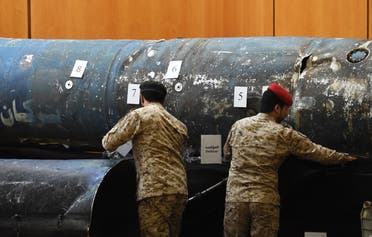 Maliki confirmed that the Houthis have fired 104 ballistic missiles targeting Saudi Arabia so far.
The coalition spokesman also showed several missile "valves" with features known to have been of Iranian make, pointing out that Houthi do not have such capabilities in missiles manufacturing adding that such missiles were designed to reach Riyadh.