EXCLUSIVE: Qatari official congratulated ISIS for Mosul capture, tweets reveal
Newly resurfaced tweets have revealed that a Qatari government official publicly congratulated ISIS in 2014, days after Abu Bakr al-Baghdadi declared an "Islamic Caliphate" from Iraq's Mosul.
Hamad Lahhan Al-Mohannadi, Deputy Chairman of the Central Municipal Council in Qatar, and the former director of the supply management department of the Qatar Olympic Committee, wrote a Twitter post in which he described the militants as "revolutionaries."
His 2014 tweet was a picture accompanied by the caption: "An image of the city of Mosul in Iraq before Iftar (a sunset meal in which Muslims break their fast in Ramadan) the rule of the revolutionaries of Iraq brought back to Mosul its luster and pulled it from the grips of Iran."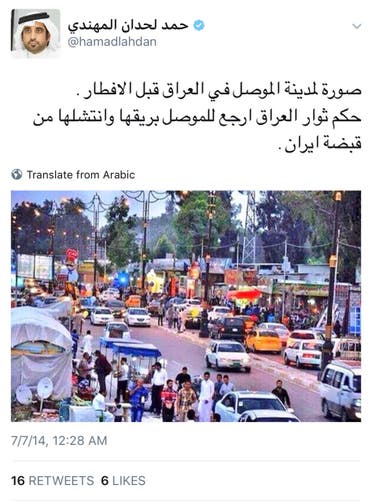 A few days earlier on July 4, 2014, Ibrahim al-Badri - known as Abu Bakr al-Baghdadi – appeared in a recorded video broadcast on ISIS platforms, in which he appeared wearing black robes and a turban at the Grand Mosque of Mosul.
From there, he announced the inauguration of his self-proclaimed Caliphate during a sermon: "I was chosen as your ruler, I am not your best or better than any of you ... If you see me on the right path, support me and if you don't, advise me, and obey me while I obey God by guiding you."
On June 16, 2014, Mohannadi celebrated an ISIS attack on a prison in Iraq's Tal Afar and the release of hundreds of inmates, including a large number of convicted al-Qaeda members.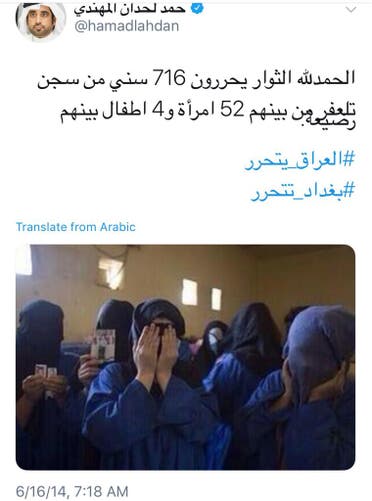 He tweeted: "Praise be to God, the rebels have freed 716 Sunnis from Tal Afar prison, 52 women and four children, including an infant."
Mohannadi later opposed the Iraqi government-led battles to retake Mosul from ISIS in October 2016.
In a tweet, the Qatari official criticized news of more than 140,000 Iraqi forces participating in this operation, mockingly tweeting: "They have prepared for what is greater than Mosul."
Mohannadi, who headed a services committee assigned to discuss citizens' requests to the municipal council, also congratulated the Qatari "martyrs" and jihadis of ISIS in a November 2013 tweet.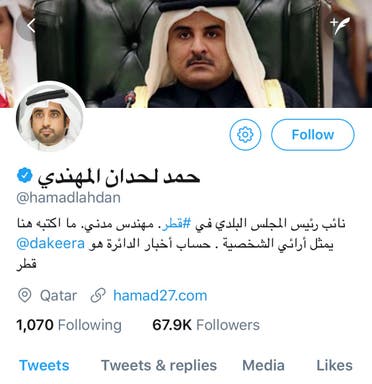 He wrote: "The Qatari jihadi Hamad bin Muqdal al-Marikhi from the Al-Khor tribe in Qatar, became a martyr during an operation in Damascus, Syria today. "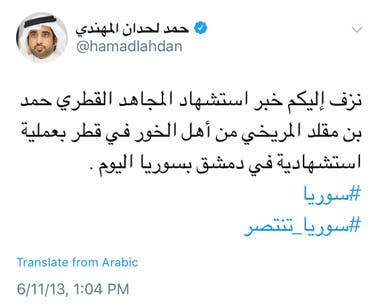 Marikhi had blown himself up in Marjeh square in Damascus and wrote in one of his tweets: "In the morning, I have a martyrdom (suicide) operation for a righteous cause."
In another message, believed to be to his family, Marikhi wrote: "Abu Yusuf, we are under heavy bombardment, my phone isn't working, a very difficult battle is ahead tomorrow. If I become a martyr, I will be seeing you in heaven –I'll be with the divine women in heaven (allegedly promised to martyrs), Haha, Tell my mother I am fine."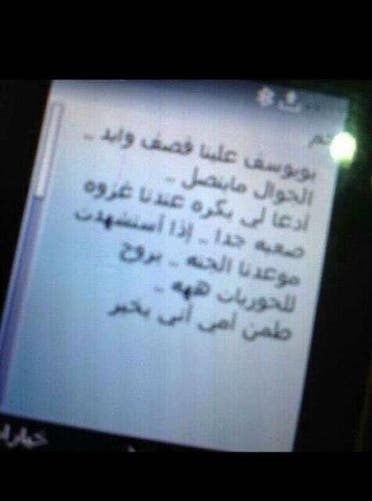 Mohannadi's support of ISIS also continued during events that took place in Libya, up until the militant group established a self-proclaimed Caliphate in Syria, on April 10, 2012.
He tweeted: "Aleppo reminds me of Benghazi, where Qaddafi's militias arrived in Benghazi and began to liberate the strongholds of the rebels and did not stop till they reached Tripoli."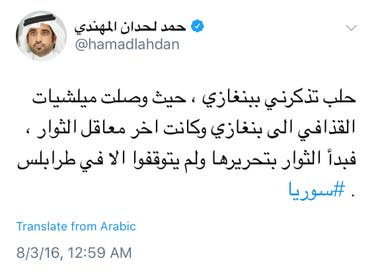 Mohannadi has also contributed to fundraising campaigns for fighters in Syria and Iraq through Qatar Charity, which is on a terrorism blacklist issued by Saudi Arabia, the United Arab Emirates, Bahrain and Egypt.
He said in one of his tweets: "You can now donate to your brothers in Syria through the Qatar Charity website."