In Iran the nuclear deal, formally known as the Joint Comprehensive Plan of Action, is known as "barjam." Iranian Supreme Leader Ali Khamenei himself once said he only signed the JCPOA, or Barjam, after the Sultan of Oman convinced him.
To save face and wash his hands of any possible mayday calls in the future, Khamenei said he was certain that talks with the United States would be useless, yet went ahead to show good faith (read, "We had no other choice.")
In a recent interview, however, Iranian Deputy Foreign Minister Abbas Araqchi says Khamenei personally supervised and green-lighted the negotiations team's each and every move.
As all factions in Iran's political canvas aim to safeguard the regime's ultimate interest, the remarks made by Araqchi seek a specific objective: preparing the entire regime apparatus for "Barjam 2.0," specifically targeting Iran's ballistic missile ambitions and Middle East meddling.
The abovementioned issues gain further importance following Saturday night's horrific chemical attack staged allegedly by forces loyal to Syrian dictator Bashar Assad – strongly supported by Tehran – against Douma of Eastern Ghouta near Damascus, leaving over 190 people killed and 1,000 injured.
'Harsh reality'
"The terms used by [Khamenei] regarding [Iranian Foreign Minister Mohammad Javad] Zarif and his colleagues, and specifically about the nuclear negotiations team, were unprecedented in terms of how many times such remarks were repeated. He may have used stronger and better phrases about others, but at least I don't recall any other case where he repeated the trust he had in this team," Araqchi told IRNA.
As US President Donald Trump is threatening to exit the JCPOA, Araqchi intends to prevent this by making a case of calming Washington through negotiating over their ballistic missile program. Other outlets and political figures in Iran are also arguing the necessity to negotiate with the West and regional countries to decrease the current escalating tension.
"The harsh truth is that Iran's foreign policy atmosphere that… we lack any flexibility in regards to the West. At a time when North Korea will hold talks with the White House leadership in the near future, Iran, however, has not taken any steps forward in this path. The European Troika are more than ever distancing from Iran," writes another state-run website.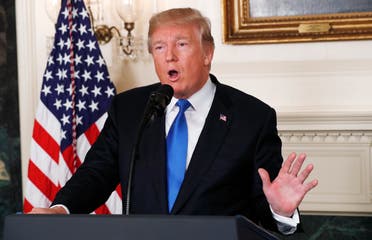 Major demands
In contrast to the past where differences between the US and Europe over the JCPOA was very significant, the current circumstances speak of a completely different landscape. Voices in Iran's regime are emphasizing the necessity to launch talks with Middle East countries, considered the parties provoking the West into placing such demands before Iran.
In regards to Syria, Tehran will need to emphasize the requirement to talk over collective security across the region and seek the participation of Saudi Arabia, the United Arab Emirates, Qatar, Kuwait and Iraq in the discussion, while through the entire process searching for common ground to dampen the negative impact of "JCPOA 2.0."
Tehran is beginning to find itself in a dangerous faceoff against the US and Europe over its ballistic missile adventurism and Middle East meddling. Assad's recent chemical attack will only make matters worse for Tehran and has the potential of distancing Moscow from all-out supporting Tehran.
Like it or not
While not publicly admitting so and despite various chest-thumping, Tehran is considering bringing an end to – or at least significantly curbing – its ballistic missile program as a medium to prevent Trump from exiting the Iran nuclear accord.
This all goes against Khamenei's strong concerns about the first step back most certainly leading to a series of avalanching setbacks. The current rulers sitting on the throne in Tehran remember vividly how the Shah ended executions and flogging in his prisons less than two years prior to his overthrow in 1979.
Like it or not, and despite all the deal's flaws, Iran succumbed to the first setback in the JCPOA and must understand how in the road ahead they literally have no choice but giving in to the international community's demands.
Global pressure is currently coupling with ongoing protests across the country to continue creating major dilemmas for Tehran. A return to pre-JCPOA sanctions spells a nightmare for Khamenei and his entire regime, specifically due to the status quo of Iran's turbulent domestic atmosphere.
No options
Protests, strikes and demonstrations, similar to those we are witnessing in Ahwaz of southwest Iran, parallel to the Iranian regime's inability to meet the nation's growing demands, is forcing Khamenei to think twice about his obstinacy.
Senior Iranian officials also understand conditions now are drastically different than 2015, especially considering the Trump administration's firm policy against Tehran.
Trump, scheduled to meet with Abu Dhabi Crown Prince Mohammed bin Zayed Al Nahyan, will reportedly ask members of the Gulf Cooperation Council (GCC) to completely cut-off all relations with Iran, according to Kuwait's al-Ray daily.
Khamenei lacks the options he wishes. Dead-end is a very conservative adjective in describing Tehran's dilemmas against its issues in the Middle East, with Europe and the US.
Rest assured the current situation will not remain as is, especially considering Washington's determination to exit the JCPOA, the decision to remain in Syria, constant harsh tone against the Revolutionary Guards and the White House's promise to support the Iranian people's protests at the correct timing.
This leaves Iran no choice but to kneel before "JCPOA 2.0" and very likely more to come.
Disclaimer - This author is writing under a pseudonym to protect his identity.