British MP warns of Qatar's 'inconsistencies' regarding terror financier's case
At least one British Member of Parliament is raising formal question regarding Qatar's seriousness in combatting terror support and financing after one of its citizens was seen out in public.
MP Zac Goldsmith, according to The Telegraph, raised those questions in a letter to Britain's Minister of State for the Middle East Alistair Burt in which he warns that they "cannot afford to turn a blind eye to Qatar's behavior".
In the letter, Goldsmith raises specific questions after Al Arabiya first published reports that emerged that Qatar's prime minister attending the wedding of an internationally-sanctioned terror financier Abdulrahman al-Nuaimi.
Qatar's Prime Minister was photographed alongside Nuaimi at his son's wedding in Doha merely weeks after Qatar designated the latter on the country's terror list.
After Al Arabiya first published those reports, international media outlets including The Telegraph began reporting on the case. Qatar's Government Communications Office then released a statement saying that Nuaimi Nuaimi was held for eight months in jail in 2017 when Doha attempted to appeal the an original acquittal.
RELATED: Al Arabiya expose sheds light on Qatar's open ties with terror financiers
Senior Qatari officials have also denied to both US government and media outlets about the whereabouts of Nuaimi. As recently as January, the New York Times' Declan Walsh initially reported that it was common knowledge that Nuaimi was believed to remain at liberty in Doha. Walsh then had to retract his reporting and issued a correction after a senior Qatari official said that they had received new evidence in Nuaimi's ongoing case on terror charges and that he had been arrested pending a second trial.
Nuaimi's presence at his son's wedding last Wednesday contradicted those reports.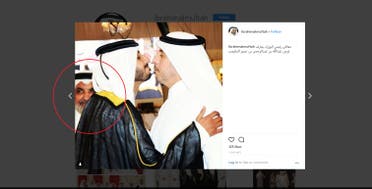 Goldsmith went further in raising doubts about the Qatari terror financier's status after highlighting that Nuaimi had been tweeting during the time he was supposed to be in custody.
"On the specific case of al-Nuaymi, the Qataris state that he was only released from jail in March 2018, but his publicly available Twitter feed @binomeir suggests otherwise. It is true that al-Nuaymi's Twitter feed fell silent on 10 July, but he resumed tweeting on 25 December 2017. How is that possible if he was still in custody?" his letter to Burt read, according to The Telegraph.
"We cannot afford to turn a blind eye to Qatar's behavior. This is a country which has considerable economic investments and media interests in this country ... So I urge you to raise these matters with your Qatari counterpart at the earliest opportunity," Goldsmith added.