'I must die:' Egyptian boy commits suicide after posting warning on Facebook
A 15-year-old Egyptian boy committed suicide few days after he posted a status on Facebook saying he would.

"I really must die. I won't say I want to die but I have to get rid of this nightmare I am in. If I ever commit suicide, don't say I did so because I am a teenager, and I am reckless. I have actually tolerated pain that no one can bear. Pray for me (if I ever kill myself)," Mohamed Yasser wrote on Friday.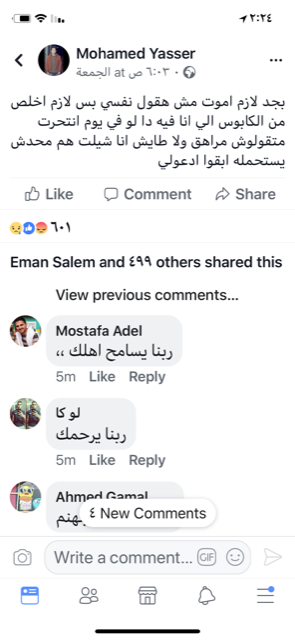 Yasser's friends and followers commented on the post offering advice and asking him to get closer to God and overcome any difficulties and problems via patience and determination.
On Sunday, Yasser's body was found in the Mois Sea in Zagazig in the governorate of Sharqia.

The body was recovered after residents contacted the security forces and informed them that a boy committed suicide by jumping into the sea.

A security source later confirmed the identity of the recovered body and said it belonged to Yasser.

Security forces are still investigating why Yasser killed himself to determine whether he had a mental illness or suffered from psychological stress that drove him to suicide.