The latest Cyclone Mekunu has turned parts of of the arid Rub' al-Khali desert, also known as the Empty Quarter, into water lakes, in a rare phenomenon that has not happened in nearly 20 years.
Rainwater fell and gathered in different parts of the desert, such as Al-Khareer, Thabltoun and Um al-Malh, which are known among visitors of the Empty Quarter, located in triangle at the border with Yemen and Oman.
Footage of the rains that were shared by Twitter users showed the arid desert full of rainwater, seemingly like a "floating sea." Some users poked fun at the pictures saying with all this water the Empty Quarter presumably no longer empty!
Ali Al- Hatish, a regular visitor of the desert, told Al Arabiya.net that the rainfall over the region was too heavy, adding that it has not witnessed a similar weather condition of this sort in two decades.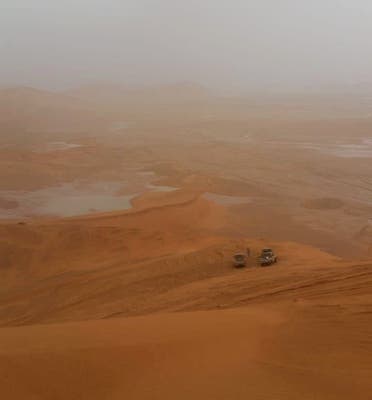 "The people of the Empty Quarter sensed a good vibe when the rainfall happened. Camels began moving towards the areas filled with waters," Al-Hatish added.

"The land will need 30 days to sprout their summer plants. and people expect to feed their camels on them for the coming two years."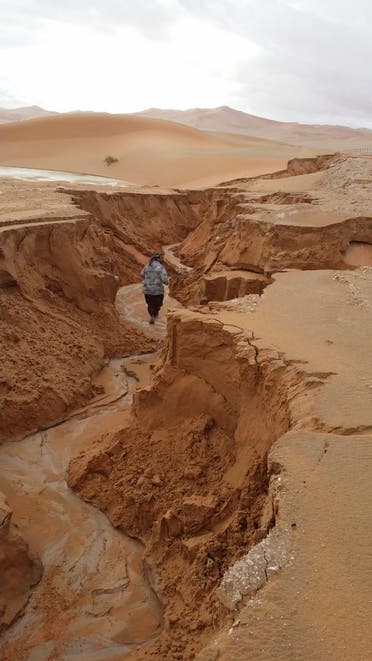 It is worth mentioning that residents of the Empty Quarter rely heavily on camels, and such historic rains are of great importance to those camel owners, and its prices change as well as a result of the summer desert plants.
The region is also expected to receive more visitors who would be interested to take shots of the water covering the desert, a scene that rarely occurs.
Rub' al-Khali desert is the world's largest sand desert. It is the world's largest area of continuous sand, covering about a quarter of the Kingdom's land surface.
The basin lying mainly in southeastern Saudi Arabia is where the wind plays a major role in forming and shaping its sand. Its sandy elevations could match the mountains in their high altitude, some of which may reach more than 450 meters.