The General Presidency of the Grand Mosque and the Prophet's Mosque Affairs, represented by all its departments, provided worshipers with the best comfort to carry out their rituals with ease and freedom amid a large influx of worshipers.
One of these departments is Suqiya Zamzam with its services in providing the holy water to worshipers and Umrah visitors, according to Saudi Press Agency.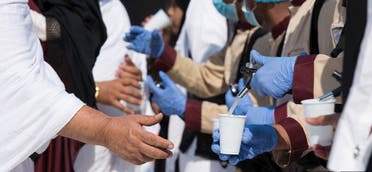 The Director of the Department of Suqiya Zamzam Eng. Osama al-Hajili said that the plan of Suqiya Zamzam was successful, whereas the consumption of the holy water during the 27th night of the holy month of Ramadan reached 3,000 ton.
Al-Hajili praised the dedication of the staff of Suqiya Zamzam during the month of Ramadan, who worked hard to provide as much holy water as possible, in fulfillment of the aspirations of the wise leadership.