PHOTOS: People of different nationalities join mats on International Yoga Day
Since the break of dawn on Thursday, March 21, men and women belonging to various nationalities, ethnicities and age groups have been converging on open spaces to celebrate the fourth International Yoga Day.
What was seen as breathing exercise for the old just years ago have now come to occupy the imagination of millions around the world.
It gained further momentum with India's Prime Minister Narendra Modi urging the United Nations General Assembly (UNGA) to adopt a special day to celebrate yoga internationally. It has become a routine affair since then.
Like most embassies across the Gulf region, India's Embassy in Abu Dhabi has been at the forefront organizing and publicizing activities in the build-up to the big day. On Thursday, UAE Minister of Tolerance, Sheikh Nahyan Bin Mubarak Al Nahyan, and his grandchildren joined the yoga enthusiasts at the Embassy event.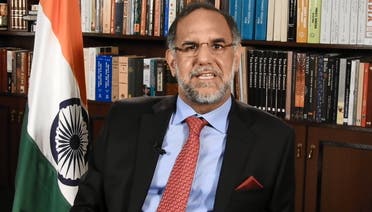 India's Ambassador to the UAE, Navdeep Singh Suri, told Al Arabiya English that the efforts to promote yoga are definitely a long-term endeavor.
"We will all live healthier and happier lives if we can incorporate some yoga into our lifestyle. We have been getting a very positive response from all communities and I am aware of several eminent Emirati friends who regularly practice yoga," he said.
According to Ambassador Suri, Yoga is already popular in the UAE and we see more and more people recognizing its contribution to mental and physical well-being.
"Life in the UAE is very fast-paced and yoga is especially valuable in helping us counter the stresses of everyday life, in restoring a sense of calm," he said.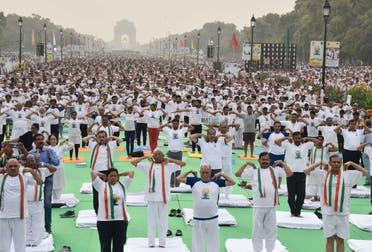 Corporate support
Supporting the event this year was the Indian Business and Professional Group (IBPG) besides large corporates. Over 3,500 people were expected to attend the event in the UAE capital.
Sudhir Shetty, President of UAE Exchange and the Indian Business & Professional Group (IBPG) called it a significant event because it encourages people to remain healthy mentally & physically. "We consider it as our duty and responsibility to be part of such social events which brings all the different communities together," he said.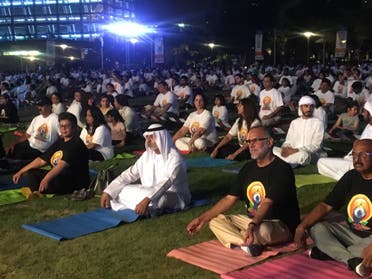 For V Nandakumar, CCO of Lulu Group, the International Day of Yoga has become a global event with more than 150 countries taking part in it. "As one of the key stakeholders in the socio-economic fabric of UAE, the leading organizations like Lulu Group, NMC Group, IBPG, etc have come together to sponsor this event, which now attracts almost all the diverse nationalities residing in UAE," he said.
There has been a noticeable rise in the number of Arab participants in Yoga, said Diji Shujahi, the host of the event in Abu Dhabi for four years in a row.
"Considering how life is so fast-paced in Abu Dhabi, just like any other big city in the world, it is no wonder Yoga is being adopted by people of various backgrounds."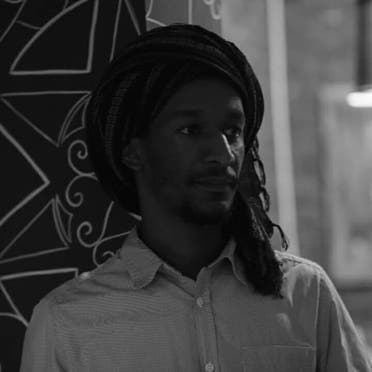 Beyond nationality and gender
What is most noticeable is the growing interest of people from different parts of the world in yoga, which manifests itself fully during events such as these.
Rami Gingari, a yoga instructor from Sudan, says there has been a noticeable increase in yoga studios in the UAE. "As of now, almost 90 percent of it caters to women. As for the Arab world, I think it needs some time till it is acknowledged and understood that it's for everyone," he said.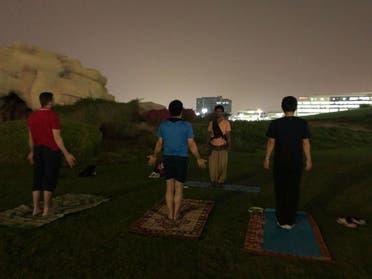 An instructor for 11 years now, Gingari teaches yoga in clubs and open areas in Abu Dhabi. Commenting on the event, he remarked "The event is a great way to express and spread the love and peace among people, as well as to expand the knowledge and also acceptance of the heritage of other's nation," she said.
Rola al-Ghoul, a Jordanian yoga instructor, shared the story behind her introduction to yoga, which happened in 2014 as treatment for a lower back injury.
"After only 4-6 months of doing yoga once a week, I was pleased to discover that many of the physical symptoms and pain had greatly subsided or disappeared," says Rola.
"During this process of healing my body with yoga, I also found greater emotional balance, as well as peace of mind. All of these benefits inspired me to become a yoga instructor with the hope to share these benefits with more people," says Rola.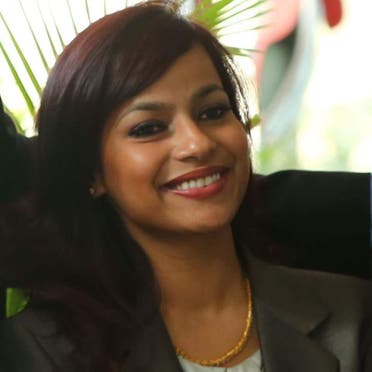 Arabic fusion
To make the event more relatable to the audiences in the UAE, Saba Khan, founder of House of Nature, a holistic alternative medicine and natural therapy in Abu Dhabi, has created a special Arabic Fusion Yoga.
"Many of our valued patients are from the UAE and the GCC and this event is a perfect opportunity to introduce yoga to the local community in a way that is educational and fun at the same time," says Saba.
"We have developed a program that is a combination of simple yoga asanas and mudras with emphasis on breathing, supported by Arabic rhythmic movements – something for all age groups and fitness levels to experience and enjoy. Arabic Fusion Yoga is now a popular addition," she said.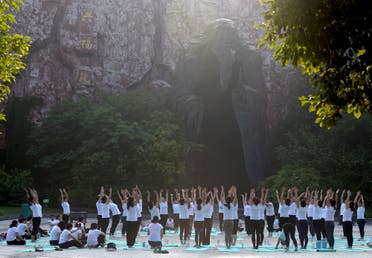 Stories of a large number of people taking to yoga has come from different Gulf countries and around the world.
In India, Prime Minister Narendra Modi led close to 50,000 people in the city of Dehradun while many union ministers, celebrities and other participants attended similar events across the country.