Indian army picks celebrity bike ambulance rider's brains to save wounded soldiers' lives
An unlettered man who received the Padma Shri, one of India's highest civilian honors, for ferrying thousands of sick and dying patients to hospitals on his motorcycle for two decades, is now giving tips to the Defense Ministry on how to evacuate wounded soldiers from remote areas without waiting for ambulances to arrive.
Karimul Haque, 53, a tea garden worker in West Bengal's Jalaiguri region, has become a legend in his lifetime for saving the lives of countless villagers during medical emergencies by transporting them through treacherous terrain to government clinics on his 'ambulance bike' fitted with a revolving blue light.
Acknowledging Haque's social service in the backward belt, then President Pranab Mukherjee conferred the Padma Shri on him last year amid a blaze of publicity. Television appearances have made him a household name in one of the country's remotest regions.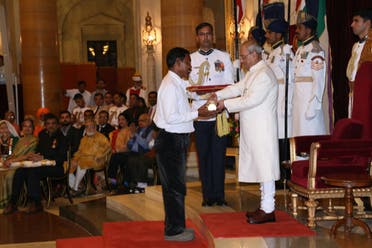 Tapping into expertise
And now India's armed forces are tapping into Haque's expertise. They want to learn from him the secrets of quickly transporting wounded soldiers on dirt tracks, forests and flooded areas where roads don't exist.
Brimming with pride, Haque revealed to Al Arabiya English how Diwakar Rao, Technical Director of Defence Research and Development Organization (DRDO), recently visited his home in Malbazar and bombarded him with questions.
"Diwakar Saheb (Hindi for sir) made me feel like a VIP, although frankly I had very little to tell him. I suggested fitting bikes with life-saving oxygen cylinder and saline bottles for emergency evacuation operations in border areas. I also reiterated that two wheelers can make the difference between life and death as they are much faster than ambulances on four wheels in the absence of proper roads."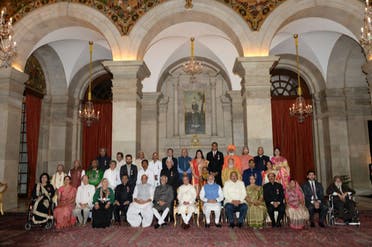 Ferried patients
According to media reports, Haque has ferried as many as 3000 patients to hospital on his motorcycle since 1998. And he doesn't charge anything for the service although petrol prices keep increasing and on an average he has to cover 50 km to reach a hospital from the patient's home.
Haque described how he was once ferrying a snake bite victim on his motorcycle when he saw an ambulance stranded in a traffic jam. "There was a snake bite victim in the ambulance too. I delivered my patient in time to save his life. While returning I discovered that the ambulance was still stranded and the patient had died."
The one-man ambulance service owes its origins to Haque's mother's tragic death in 1998. She had a heart attack in their village home but there was no ambulance to take her to the nearest hospital. He watched her die before his eyes.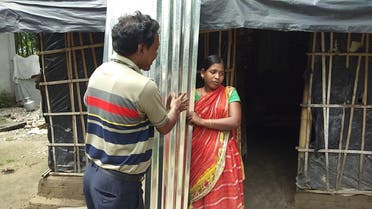 Dying in droves
Later Haque told an interviewer: "I tried my best but could not get an ambulance to save her. After her death, I realized what a deadly problem thousands of people in the remote areas were facing, particularly in villages deep in the forest. The poor were dying in droves due to lack of proper treatment."
He frantically saved every Rupee (Indian currency) until he had enough money to purchase a second-hand motorcycle. Not surprisingly, Haque dedicated his Padma Shri to his late mother, Jafarunnessa Bibi.
"I hope she is watching from heaven the good work that her son is doing in her memory", he told Al Arabiya English.