EXPLAINER: How the rescue operation aims to save Thai boys trapped inside cave
Operations to rescue the 12 boys and their soccer coach who have been trapped in one of Thailand's longest caves for more than two weeks started Sunday morning.
The young boys, who were accompanied by their 25-year-old coach after football training on June 2, were trapped in the cave when a heavy storm caused a blockage at the entrance.
Head of the rescue mission, Narongsak Osottanakorn, told reporters, "Today is D-Day. At 10 a.m. today, 13 foreign divers went in to extract the children along with five Thai navy SEALs."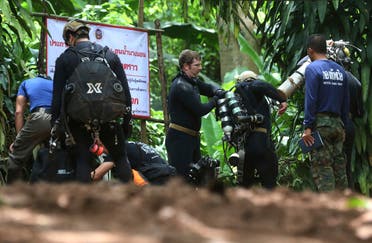 He added that the first boy could emerge from the cave at around 9 p.m. local time.
According to Reuters, stormy weather is expected for the next two weeks, increasing the risks in what has been called a "war with water and time" to save the team.
An army commander involved in the mission noted that the rescue operation could take three to four days depending on weather conditions.
Reuters' reports confirmed that officials have continued their efforts to explore other options to extract the team while the rescue mission was underway.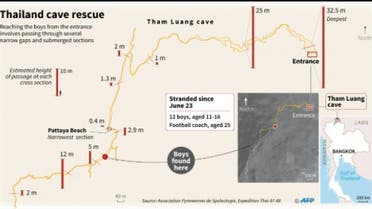 Rescuers drilled holes in the hills above the cave to seek alternative routes down into the cave.
According to The Guardian, officials did not confirm if the boys, many of whom do not know how to swim, would have to dive out of the cave. But officials said that water levels have dropped enough that the group may be able to walk through much of the cave's network.
Earlier today, media and non-rescue personnel were asked to clear from the cave site area.