Thai authorities revealed the rescue plan of seven of 12 boys from a flooded cave in northern Thailand where they were trapped with their soccer coach for more than two weeks.
The young boys, who were accompanied by their 25-year-old coach after football training on June 2, were trapped in the cave when a heavy storm caused a blockage at the entrance.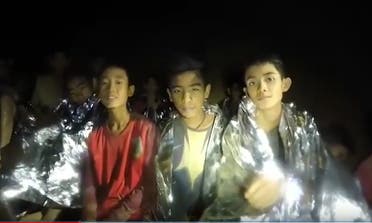 The rescue strategy was to begin with reducing water levels in the Tham Luang Nang Non cave so that the team could easily take the children out.
The acting governor of the province's capital, Chiang Rai, Narongsak Osatanakorn said they have been training on the plan for several days and the team successfully managed to decrease the flood level.
He said 13 foreign divers and five Thai navy SEALs were taking part in the key leg of the rescue: taking the boys from where they have been sheltering and through dark, tight and twisting passageways filled with muddy water and strong currents.
Two divers accompanied the boys, all of whom have been learning to dive only since July 2, when the first searchers found them.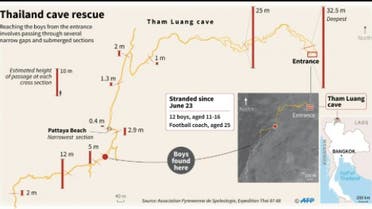 After reaching the area where the boys were trapped, the divers used a rope, which was connected to the outside of the cave, to guide them through the exit way.
A diver led his teammate and the children though.
Part of the complicated rescue included the boys having to walk on their feet through muddy and rocky areas that were not underwater.
The rescuers also had cassettes, in which the children were placed, to help transport them safely in areas that were flooded.
Operations were divided into two teams: the first to assist the children who have been taken out, and the second to continue to provide assistance for the remaining eight and their coach.
Thai authorities said the rescuers, who were fully equipped, had spent five hours from the entrance of the cave to reach the children and six hours, including a break, to bring them back.
Osatanakorn told reporters that four of the seven boys were brought out and taken to the hospital in the town of Chiang Rai, the provincial capital, for evaluation, and the next phase of the operation will resume after about 10-20 hours.
The names of the rescued boys were not released.
Osatanakorn's announcement, at a news conference more than an hour after helicopters and ambulances were seen rushing from the cave area, drew cheers and applause.
Rescuers will resume to replenish air tanks along the treacherous exit route on Monday.
The success of the initial evacuation raised hopes that all will be out soon, although officials said could it take up to four days to complete.
Al Arabiya English cannot independently verify the footage and images being shared online.