What's the story between Qatar and US former national security advisor Michael Flynn?
The United States' former national security advisor Michael Flynn has joined a Washington firm that lobbies for Qatar.
Stonington Global, led by a former Republican campaign consultant and registered lobbyist Nick Muzin, announced that Flynn had signed on as director for global strategy.
Flynn's name and photograph are up on the Stonington Global website, which says he "will provide expertise on national security structures, policies and personnel, and help identify new technologies and recommend investments in cutting edge businesses interests for our clients."
The company said they will "build on their success of representing the State of Qatar".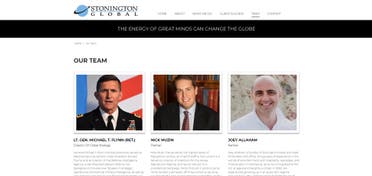 However, in an ambiguous statement his lawyer claimed that the announcement by Stonington Global was a "misunderstanding".
The lawyer, Robert Kelner, said Flynn - who pleaded guilty, as part of a probe into possible collusion between Russia and Trump's 2016 election campaign - "was aware that a statement was being drafted, but he did not intend that it be issued at this time".
Flynn's December guilty plea to a charge lodged by Special Counsel Robert Mueller, who is leading the probe into possible ties between Trump 2016 campaign and Russia, was part of a deal for cooperation which allowed him to avoid much more serious charges of acting as an unregistered lobbyist for Turkey and Russia.

On Tuesday Flynn appeared in a Washington court to discuss his sentencing, which has been repeatedly postponed by Mueller as he apparently continues to draw on Flynn's cooperation in the probe.
Prior to his guilty plea late last year, Flynn had been forced out from his national security advisor post, after only 22 days, over concerns that he could be compromised by false statements he made over his contacts with Russian officials and his paid lobbying for Turkey during the campaign.
Before that he had been fired by former US President Barack Obama as defense intelligence chief.
Further controversy
Though the report took some commentators by surprise, it is not the first controversial Flynn was linked to Qatar wrongdoings.
American rapper Ice Cube and his business partner have confirmed in a lawsuit, that the Qatari investor referenced in a series of tweets from Stormy Daniels' lawyer, that Ahmed al-Rumaihi had boasted about bribing Flynn.
The bombshell claims were made in a declaration as part of the $1.2bn lawsuit filed by the rapper and his business partner, the founders of basketball league BIG3, against multiple Qatari investors.
Miami based columnist Grant Stern, who is expert in such cases, said that lawyers representing the State of Qatar in a federal lawsuit just exposed their royal family's links to a US spy ring in a desperate bid to shield communications with their cutouts from discovery in open court.
He quoted a source in New York with knowledge of the lawsuits against Qatar, believes that public release of some records could expose key details related to Qatari Royals' role in the Trump-Russia dossier.
He added that a pair of recent court filings in two federal courts just linked both of Qatar's known rings — in New York and Los Angeles — together under the direction the Emir's younger brother, Sheikh Mohammed bin Hamad Al Thani, who ran Qatar's bid to win host duties for the 2022 World Cup that ultimately led to the massive FIFA corruption scandal that ousted the world soccer body's top executive and board members.
He added that the Big3 League's latest lawsuit against a corrupt former employee accuses Sheikh Mohammed bin Hamad Al Thani of operating as the paymaster for the Qatari agents inside US.
The columnist published documents proving that on June 15, 2018, Qatar's attorneys at Covington filed a letter to Judge Katherine B. Forrest saying that they hired Nick Muzin — a Ted Cruz backer who leads Stonington Strategies — to be their registered foreign agent with an unusual mission.
In that filing, Qatar's lawyer Mitchell Kamin actually admitted that Muzin's role was to "funnel cash to a failing kosher restauranteur in New York City for secret disbursement to right-wing American Jewish groups in course of the Emirate's diplomatic efforts to sway their foes" the documents, published by Stern, said.