British Prime Minister Theresa May has had a febrile week fighting off a revolt from within her own Conservative Party and hanging on to her position by the skin of her teeth.
While she can heave a sigh of relief for now, May is not out of the woods yet. A challenge to her leadership looks very much on the cards, possibly in the autumn, when the Tory Party holds its annual convention.
A spate of resignations from the Cabinet including David Davis, the Secretary of State for Exiting the European Union, better known as the Brexit Secretary, and the voluble Foreign Secretary Boris Johnson have thrown the Conservative Party into such turmoil that it is threatening to bring down the minority government.
Ian Blackford, a MP for the SNP very succinctly described May's position as "a Prime Minister in office but not in power", who "in her attempt to hold together her fractured party, has managed to unite the entire country against this Government".
Fraught with difficulties
May's stint as prime minister has been fraught with difficulties ever since she took over from her predecessor David Cameron after he lost the EU referendum in June 2016. Negotiating a winning deal out of the 28-member EU bloc was never going to be easy, but May had promised when she took up the prime ministership that she would respect the people's mandate.
"Brexit, means Brexit" she had said, even though she had been on the Remain side of the referendum.
ALSO READ: Trump blasts UK PM May's Brexit plan, says it puts trade deal in doubt
Despite having inherited a majority government, May held a snap poll last year in the hope that she would strengthen her position by being elected prime minister in her own right. The gamble went horribly wrong.
The Tories lost their majority in Parliament and were only able to form the government with help from the Democratic Unionist Party. May's own position became weakened and ever since she has been watching her back as the knives were already out.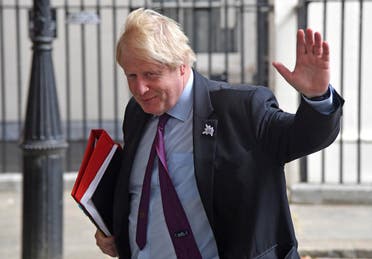 Staunch Brexiteer
May's biggest competitor since 2016 has been Boris Johnson, a staunch Brexiteer who had spearheaded the "Leave" campaign and felt that he should have taken over as prime minister after Cameron.
May had given him the plum post of Foreign Secretary in the hope that it would console him, while she went about the hard graft of actually formulating a Brexit plan.
ALSO READ: Hunt named foreign minister as Boris Johnson quits in protest over Brexit plan
Not one to be sidelined, the flamboyant Foreign Secretary has been biding his time waiting for the right time to strike – which he got last weekend when May held a meeting of the Cabinet at Chequers, the country house of the Prime Minister, to agree on a blueprint for Brexit.
May pushed through her proposal allowing no dissent. Once away from Chequers, the resignations came in thick and fast, first Davis, then Johnson and then a handful of junior government ministers.
Tongue-lashing
In his resignation speech on Wednesday in Parliament, Johnson gave May a tongue-lashing, stopping short of asking her to step down and mounting a leadership challenge – he is probably saving that for September.
He directed his criticism at the Brexit negotiating strategy that has been personally overseen by May. Describing the Chequers approach as "volunteering for economic vassalage", Johnson virtually gave a clarion call to those Tories unhappy with May to gather behind him.
Though the general election is scheduled for 2022, with such deep divisions in the Conservative party May could be left with no choice but to call an early election. However that would be disasterous for the Tories. Already, a YouGov opinion poll has pushed the Labour Party five points ahead of the Conservatives this week.
Brexit elevated May to the prime minister's chair and it will also very likely be her downfall. The Brexit referendum was the Tories 'gift' to the UK, and it is also what is tearing the party apart. Brexit could well be May's and the Conservative Party's Waterloo.