For 75-year-old Rajagopalan Vasudevan finding innovative ways to use plastic waste has yielded fruitful results.
The dean and chemistry professor at the Thiagarajar Engineering College in Madurai was perturbed over the fact that plastic waste was a growing problem throughout the country and he hit upon a brilliant idea.
Prof. Vasudevan devised an innovative method to convert recycled, shredded plastic waste into flexible, long-lasting roadways. Today, using this simple technology about 55,000 kms of roads have been laid using a proper blend of bitumen with plastic trash.
He was aware of the fact that by 2050, the world will have more plastic than fish in the world's oceans and one can imagine the quantum of plastic wastes that it will generate. According to a report, more than 9 billion tons of plastic has been produced until 2017 since 1950, with a big chunk of it is still around us.
The scene in India is no better as the country produces more than 25,000 tons of plastic waste on a single day and that accounts for 8-10 percent of our total waste generated.
Simple process
Rajagopalan Vasudevan, who this year received the Padma Shri, the fourth highest civilian award in the country, told Al Arabiya English that the process is very simple and in situ, no external industries are involved.
"The plastic tar roads are performing very well even after 11 years without any permanent deformations like sunken surfaces, raveling, edge cracking and potholes. It helps to use waste plastics and the process is eco-friendly and hence the disposal of waste plastics is not a problem."
Patented in 2002 and approved by the Central Pollution Control Board in the 2005, Vasudevan's innovation triggered interest among civic bodies in the country as well foreign countries like China, Japan, Indonesia, Malaysia, Brunei, South Africa are requesting for this technology to be adopted in their respective countries.
More than 20 countries are adopting this technology with terrific results. This technology was also coded by the Indian Road Congress in 2013 (IRC-SP-98-2013).
Rajagopalan Vasudevan explains: "The performances of the roads laid were also studied under the guidance of Central Pollution Control Board, New Delhi" and highly encouraging results were seen.
"Moreover the use of waste plastics in this technology is high and we can use 10-15 percent of waste plastics to the weight of bitumen. For every kilo of stone, 50 gms of bitumen is used and 1/10th of this is plastic waste; this reduces the amount of bitumen being used."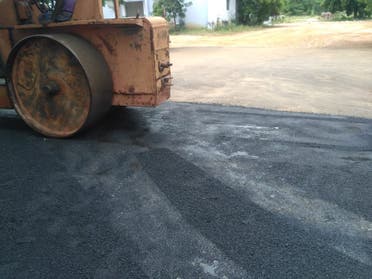 How it all began
It was in 2002 that the erudite Chemistry professor came up with the idea of spraying dry, shredded plastic waste (like carry bags, cups, thermocols and foams, etc.), made up of pieces as small as 2 mm in size, over gravel or bitumen heated to 170 degrees Celsius.
Soon, the stones found coated with the fine film due to the melted plastic. The plastic-coated stones were then mixed with molten tar. Since both plastic and tar are petroleum products, they bind well.
The technique was first experimented to a pave a road on the Thiagarajar Engineering campus. The results were fantastic: it reused plastic waste and built durable roads.
Vasudevan's perseverance and determination paid rich dividends as this technology is being adopted at all levels – including National Highways to panchayat built-rural roads. Little wonder then he is called by the name 'Plastic Man of India.'
Innovations and recognitions
Not satisfied with one innovation, the Plastic Man came up with few more of them like corrosion-free rods and "plastone" blocks, a mixture of plastic and stone used for flooring.
He received several awards for his work, including the Dr APJ Abdul Kalam Memorial award for Innovation in Governance. His research was showcased on the television talk show Satyameva Jayate as an innovative solution to the growing problem of plastic.
The use of plastic wastes in roads fetched the inventor – The TECH icon of India – award in 2015 – presented by the Prime minister of India. He was also a recipient of the Maharana Udai Sing Award, given by Mewar Foundation, Udaipur, to honor the work of permanent value in protecting and enriching the environment, hand-in-hand with future development.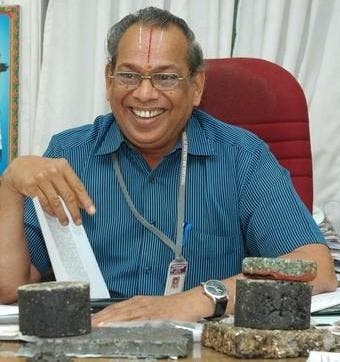 Elaborating advantages
Elaborating on the advantages of such road, Vasudevan says that compared to ordinary bitumen road the plastic tar road possesses double strength and can withstand both heavy load and heavy traffic.
"It is pot-hole free as the road is not affected by rain or stagnated water. There is no rutting and raveling. The life of the road is not less than seven years and there is no need for maintenance expenditure," he says.
According to him, performance studies of the plastic tar road were carried out as per Central Road Research Institute specification and the results are very good.
"It has been published by CPCB and NRRDA as monographs. We have also developed a cold mix road laying process using emulsion and plastic coated aggregate and this can be used for laying roads in colder regions, where heating of aggregate is not done easily," says Prof. Vasudevan.
Other products such as polymer modified bitumen roofing sheets, corrosion resistant reinforced steel bars for construction purpose are also been developed under this project. All the products use waste plastics as a binder.
The government is encouraging the use of shredded plastic for road work as a sustainable solution to the generation of plastic trash.
On World Environment Day, on June 5, President of India Ramnath Kovind tweeted calling upon people to work for a "cleaner and sustainable planet" and Vasudevan's initiative is the right move in this regard.