Poachers and trophy hunters have been calling the shots for donkey's years in the world-renowned wildlife reserves of Kenya despite the government's marathon efforts to save the East African country's rare elephants, rhinoceroses, lions, leopards, buffaloes and giraffes.

But an India-headquartered international non-profit Hindu religious organization promoting spiritual, cultural, and social welfare across the globe has come to their rescue, especially their cubs and calves.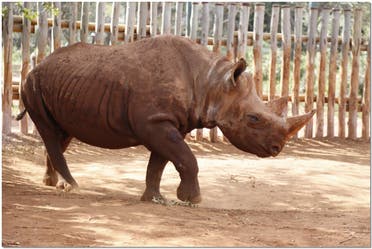 Lucrative industry
Every year, ruthless poachers armed with AK-47 rifles, axes and chainsaws sneak into Kenya's countless protected national parks and reserves in search of rhino horns, leopard skins and ivory from elephant tusks, and slaughter hundreds of mammals.
In a lucrative illegal industry that has become the fourth largest criminal activity behind the trafficking of drugs, guns and humans, the freebooters get away with murder and pass on the plunder to their handlers who then smuggle the animal parts to the Far East, Europe and the United States where these collectibles fetch fancy prices for their mythical healing qualities.
Some 2,000 tuskers were killed per year during 1970s and the horrendous poaching escalated in the next decade leaving as many as 8,300 pachyderms dead year after year, the annual death roll shooting up to an astounding 30,000 to 50,000 till 2012.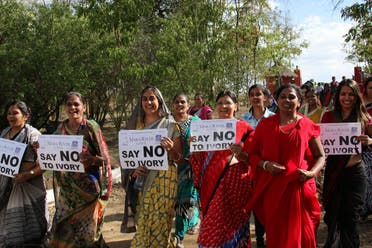 Trophy hunters
Though popular sanctuaries like Kenya's Masaai Mara National Park, 280 km from Nairobi, hosts as many as 95 species of mammals and 570 species of birds, the blame for the vanishing population of Kenya's Big Five – lion, elephant, rhino, buffalo and leopard – lies at the door of even daredevil trophy hunters.
For years on end, these well-heeled adventurers have been continuing with their illegal activity – hunting of wild game for human recreation with the shot-down animal or head, horns, skin and antlers of the animal displayed in photographs to represent the success of the hunt.
In 2013, even as the Kenyan government stepped up security in its national parks, and was wondering whether poaching was a national security threat and a major source of funding for terrorist groups.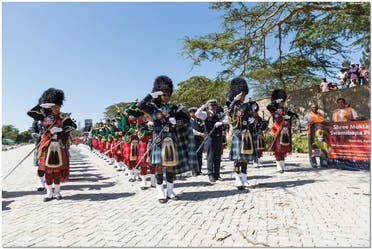 Blessing in disguise
But the terror strike on the trendy hang-out dreamed up by a local Indian Gujarati construction magnate Lakshman Raghavani came as a blessing in disguise for Kenya which is home to some 300,000 Gujaratis.
The Maninagar Shree Swaminarayan Gadi Sansthan (MSSGS) in Ahmedabad, India's first world heritage city in Prime Minister Narendra Modi's home state of Gujarat, immediately announced plans to adopt 67 orphaned mammals in memory of the 67 Westgate victims.
Since then, MSSGS's global head priest Acharya Purushottampriyadas has been flying to Nairobi every year with a group of saints and disciples not only to personally supervise the adoption project but also to launch campaigns to create awareness about wildlife conservation.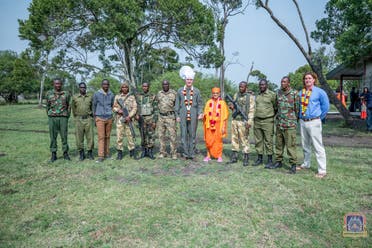 Educational aids
He has so far donated some 190 million Kenyan shillings to two genuine trusts doing exemplary work for rearing and protecting the wildlife, besides distributing educational aids as well as food, milk and medicines to needy children.
The septuagenarian spiritual leader makes it point to go round the 1,500-square-kilometer Masaai Mara National Park and other sanctuaries on foot and in vehicles as well as helicopter, meeting dedicated forest rangers and himself feeding the adopted animals who now number over a hundred—77 baby elephants, 16 rhinos, 13 giraffes, four cheetahs and three lions.
"The Acharya has also named the adopted mammals in accordance with Christian, Islamic and Hindu traditions to inculcate a feeling of religious amity," points out Swami Bhagwatpriyadas, head of MSSGS's Ahmedabad chapter, adding that his master believes in vasudhaiva kutumbakam (the whole world is a family).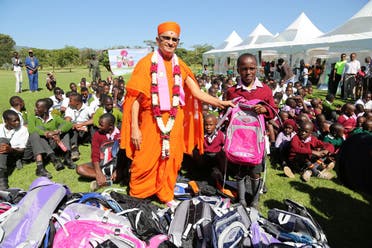 Women's rallies
Local women turn out in large numbers to actively participate in anti-poaching rallies organized during the Acharya's annual visit to Kenya's wildlife reserves near Nairobi and Mombasa and later also carry on the save-animals campaign throughout the year.
Such largely-attended gatherings to show support for dumb denizens are also often accompanied by the MSSGS's Swamibapa pipe band, the world's first international traditional Indian-Scottish bagpipe troupe comprising selfless pipers, drummers and drum majors donning an military-like uniform with red or blue tartan kilts, colourful feathers, sporran, beret, bonnet, plaid and all.
"Inspired by Acharya's generous donations for the noble cause, local wealthy Indians have also joined this project of compassion and started adopting and fostering calves of rhinos and elephants", says Swami Bhagwatpriyadas of MSSGS which focuses on community service, education and a moral life that preaches non-violence, respect and charity worldwide.